DENVER – MEF Annual Members Event – CEO Jeff Storey envisions a Lumen Technologies that sheds the skin of a slow-moving telco to transform into a "technology company" that automates business transactions with its customers.
One way Lumen is becoming a technology company is via the implementation of MEF's Lifecycle Service Orchestration (LSO) APIs, but more on that later. First, Storey explains how a technology company differs from a traditional telco.
"A telecom company takes orders one at a time," said Storey during his keynote. "When a customer calls us and says, 'I need more capacity,' we take the order and we go type on the element management system to activate capacity."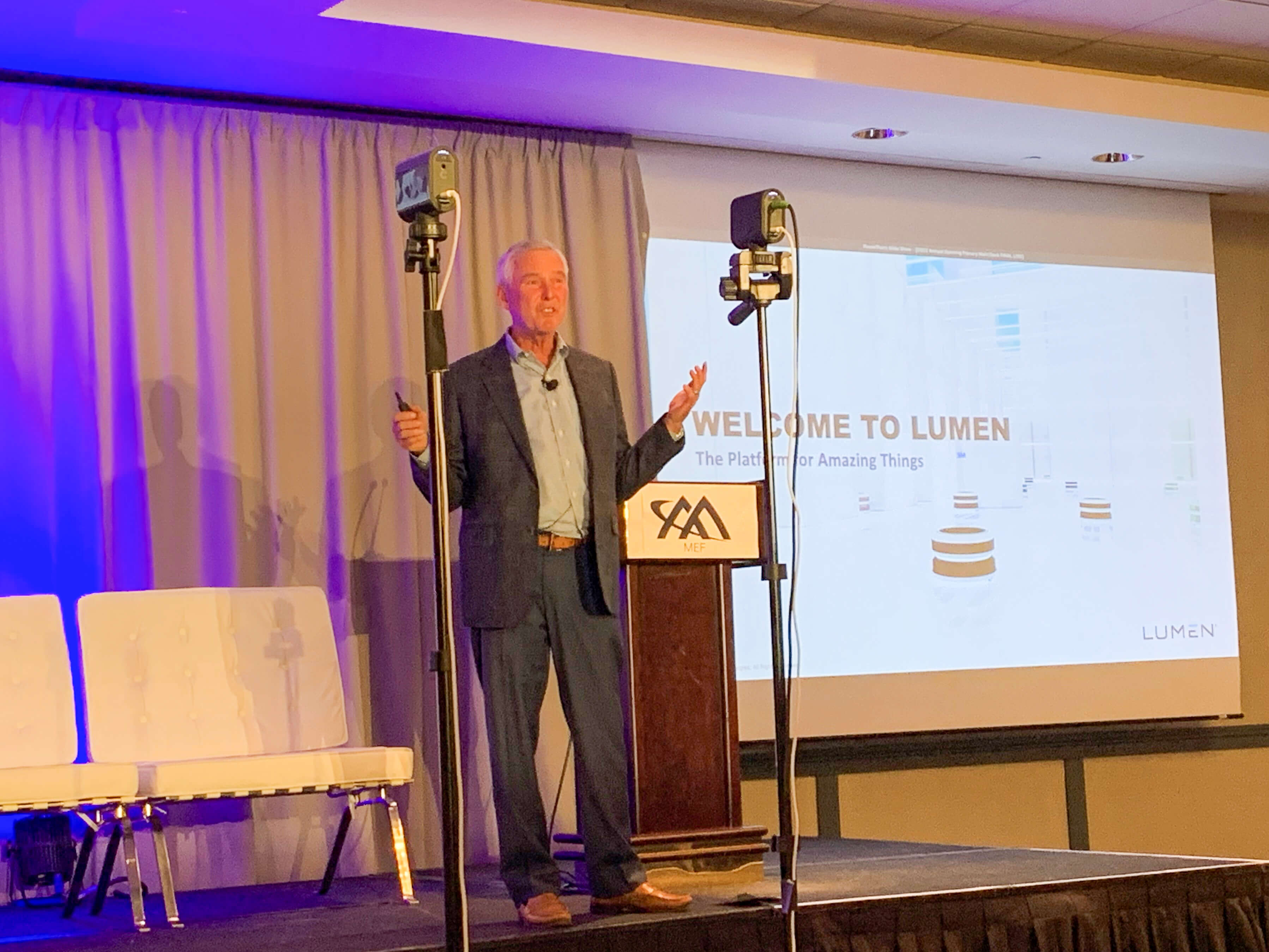 Alternatively, "a technology company interfaces with their customers and their network through software," such as in the deployment of software-defined wide area networks (SD-WANs). Storey wants to eliminate the manual processes of phone calls and meetings to set up network services, and instead utilize digital interfaces.
In addition to providing technologies such as SD-WAN services to customers, Lumen has developed the Lumen Platform to further its mission to become a technology company and "embed control, orchestration and security into our [network] infrastructure through the platform, which then acts as an intermediary between our customers and their applications," according to Storey.
Keep it simple
Ultimately, Storey wants customers to have a buying experience on the Lumen Marketplace that's as simple as ordering from Amazon or Walmart's online interfaces.
In an interview with Light Reading, Lumen CTO Andrew Dugan echoed Storey's focus on providing a simplified customer experience.
"We want to have a digital experience with our customers," said Dugan, who is also a MEF board member. "We want them to come in through a portal or through an API to be able to order and manage services."
He added that Lumen is at the beginning stages of implementing MEF's LSO Sonata APIs with an enterprise customer.
Storey plans to develop the digital customer experience outside the walls of Lumen as well.
"We want to partner with people as a development center, help them build applications or at least help them interface their applications through standard interfaces with us to build new capabilities," said Storey. "We want a platform for other people's applications to run on."
Deploying the MEF LSO Sonata APIs, which automates the process of buying and selling connectivity services – such as Carrier Ethernet – between operators, is one way Lumen aims to develop partnerships on the road to increased network automation.
MEF's Stan Hubbard told Light Reading that more than 90 service providers are now tracked in the LSO Sonata adoption lifecycle – from interest through to implementation. Of those 90 operators, 41 are committed to using the APIs, and 22 are in production with the APIs as buyers and/or sellers. MEF forecasts up to 70 service providers using the APIs by 2024.
While it's hard to ignore the urge to compete with other operators by tweaking the LSO APIs, Storey encouraged MEF members to "approach the APIs as the way to satisfy our customers and standardize our industry to run more efficiently and better."
Related posts:
— Kelsey Kusterer Ziser, Senior Editor, Light Reading