Agilent Technologies Inc. (NYSE: A) claims to have solved the well-known "mirror problem" that has hampered efforts to commercialize long-wavelength Vertical Cavity Surface Emitting Lasers (VCSELs).

Agilent's breakthrough could lead to VCSELs operating at wavelengths of 1310 and 1550 nm reaching the market in under a year and a half, says Mike Tan, lead researcher on the VCSEL project. Such lasers promise to deliver high performance at lower cost than the standard edge-emitting lasers used for the majority of today's telecom applications (see Laser Blazers).

Designing VCSELs to operate at shorter wavelengths around 850 nm is relatively easy. At 1310 and 1550 nm, however, optimising the optical and electrical characteristics at the same time is tricky, the biggest problem being that materials that give out plenty of light at these wavelengths are not much good for making mirrors.

VCSEL mirrors are made from alternating layers of different materials, creating high reflectivity through the constructive inteference of multiple reflections. The bigger the difference in refractive indices between the two materials, the stronger the reflection. But in indium-phosphide compatible materials, which are used for long-wavelength light emission, only a small refractive index difference can be achieved.

Agilent's solution is to replace one of the materials in the mirror with air. Air has a refractive index of 1.0, while indium phosphide has a refractive index of around 3.5, giving the maximum possible index contrast. In fact, these mirrors only require three mirror pairs, says Tan, compared to 65 or more required for typical designs based on indium phosphide materials. That translates to shorter manufacturing times, lower manufacturing costs, and higher performance.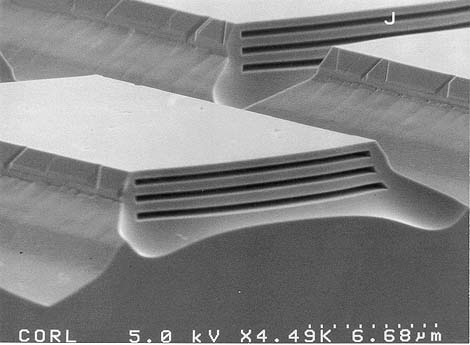 Agilent researchers make the mirror using techniques similar to those used to manufacture MEMS (microelectromechnical systems), according to Tan. First, they deposit layers of indium phosphide and a sacrificial material. After etching to define the shape of the device, they regrow indium phosphide support pillars. The sacrificial material can then be removed with a selective etch.

So far, Agilent has used this technique to make 1310 and 1550 nm devices, but believes it is likely to prove more useful at 1550 nm, the wavelength of most interest to telecoms companies because it enables DWDM applications. "This approach could easily be applied to the fabrication of lasers at 1550nm wavelengths," says Tan. "I believe that's where this technology will really shine."

Agilent isn't the first vendor to work on long-wavelength VCSELs. Until recently, however, only two others -- Bandwidth9 Inc. and the now defunct Coretek -- had managed to bring indium-phosphide-based VCSELs to market (see Coretek Is Closed). But competition is hotting up: two European startups BeamExpress Inc., and VertiLas GmbH -- have popped up on the scene in recent months (see BeamExpress Tunes VCSEL and VertiLas Secures Funding).

Markus Ortsiefer, founder and CTO of Vertilas, wonders if Agilent has addressed all the aspects of the "mirror problem". "Everyone says the problem is because of the low refractive index difference, but that isn't really the point" he contends. "The real problem is how to manage thermal behaviour."

Ortsiefer notes that indium phosphide-based mirrors have a very low thermal conductivity, with the result that the laser heats up, and more current is needed to get light out. Vertilas has done two things to improve matters. One, it uses a "tunnel junction" to reduce the electrical resistance of the laser. Two, it has very good heat sinking, which means removing the substrate so that the heat sink can be placed close to the active region of the device.

Tan says that Agilent also uses a tunnel junction in its device, but he didn't provide details about heatsinking.

Agilent claims to have demonstrated a 1550 nm VCSEL based on the new mirror technology, and to have started reliability tests.

— Pauline Rigby, Senior Editor, Light Reading
www.lightreading.com