Ethernet services are on the upswing, but sales are hindered in part by the lack of necessary fiber connections, according to a recent report from Vertical Systems Group.

U.S. sales of carrier-based offerings that use native Ethernet ports as the customer premises interface will grow from about $393 million in 2003 to $1.3 billion by 2007, the firm estimates. That's a cumulative total of $4.2 billion in total U.S. revenues.

Within the same timeframe, though, private lines, frame relay, and ATM services -- the legacy services Ethernet is supposed to supplant -- will reach a cumulative U.S. total of $170 billion, Vertical estimates.

Why will volumes be so low for Ethernet services, despite growth predictions? Lack of fiber, Vertical says. "Enterprise network managers are enticed by the simplicity and cost effectiveness of Ethernet, but they can't order native Ethernet service connections if there isn't fiber access to the door," says Rick Malone, principal at Vertical Systems, in a prepared statement.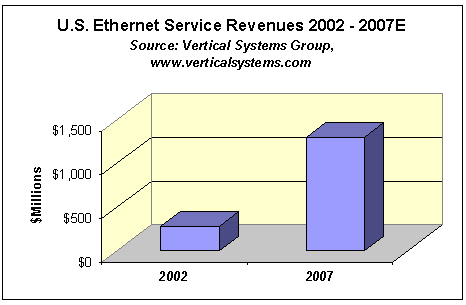 According to Vertical's figures, just 10.2 percent of U.S. buildings housing 20 or more employees are linked with the fiber that's needed to provide most Ethernet services. That will represent about 18,000 buildings in the country by the end of the year, the firm estimates.

What about Ethernet over copper? Components and test equipment are being readied for new gear in that department (see Agere Goes Gaga Over Gig-E, Broadcom Tackles 10-Gig Copper, and Gig-E Testers Wear Two Hats). But Vertical's director of research services, Erin Dunne, says it will take some time for products to get firmly entrenched. The firm has factored into its forecast the rise in equipment that's anticipated, however.

Bottom line? Despite optimistic projections, Ethernet services will run an obstacle course stateside until more fiber is installed or technology improves sufficiently to make copper a viable connector for emerging business services.

— Mary Jander, Senior Editor, Light Reading