About Us
On this page you can find information about:
An overview of the Light Reading group
The latest Light Reading editorial calendar
Light Reading -- What's it all about?
Who we are and how to contact us -- Meet the team
Guidance for PR professionals and others wanting to contact the editorial team
The Light Reading Group
Light Reading is an independent B2B digital media platform providing daily news, analysis and insight for the global communications networking and services industry. Our broad readership and solid reputation make us the leading resource for telecom, mobile and cable network operators, cloud services players and all the companies that develop and supply them with technology, applications and professional services. Light Reading has over 500,000 qualified registered users, our websites attract over 1.3 million monthly page views and our newsletters are sent out to 220,000 opt in subscribers.
Our brand is also active across all social media channels, with over 100,000 members and followers. The Light Reading Group incorporates a dedicated research division Heavy Reading, over 15 successful annual industry events including its flagship Big 5G Event (formerly the Big Communications Event), several targeted online communities (including Security Now, Connecting Africa and Broadband World News) that dig even deeper into key areas of the global communications industry and its sister industry news site Telecoms.com.
Light Reading is the go-to, independent online news analysis and opinion portal for the global communications networking and services industry that comprises telecom, mobile and cable network operators, the cloud services players (including the web-scale giants) and all the companies that develop and supply them with technology, applications and professional services.
The Light Reading team has been identifying and reporting on the key communications industry trends since the turn of the century and has an unrivaled team of experienced journalists and editors based across North America and Europe that informs and (we hope) entertains those involved in this vital multi-trillion-dollar sector.
With the Light Reading site (www.lightreading.com), which boasts hundreds of thousands of registered users, at its heart, the broader Light Reading group has, since 2000, diversified to include:
Heavy Reading (www.heavyreading.com), a highly respected and successful analyst business;

A series of successful industry events, including the annual Leading Lights industry awards;
A number of targeted online communities that dig even deeper into key areas of the global communications industry, including Broadband World News (www.broadbandworldnews.com), Security Now (www.securitynow.com), Connecting Africa (www.connectingafrica.com) and TU-Automotive (www.tu-auto.com).

In addition, the Light Reading group now also includes sister industry news site Telecoms.com (http://telecoms.com/).
Light Reading is, since July 2016, part of Informa Tech (https://tech.informa.com), a division of Informa PLC.
Light Reading Editorial Calendar
Each month, Light Reading, in addition to its regular reporting on all that's hot in the communications and caffeine-related beverages sectors, will focus its attention on a particular topic that will generate a number of special features, including video blogs, service provider and analyst interviews, reader polls, pictures and all manner of other content "gubbins."
The aim of these hot topic focus months is to draw attention to different aspects of technology or services trends that are affecting network operators globally.
Table 1: Light Reading Editorial Calendar

Light Reading -- What's it all about?
At Light Reading, we've always focused on the development of next-generation communications networks and what those networks can enable in terms of commercial services.
And while for many the term 5G might suggest just another generation of cellular technology, at Light Reading the term 5G is synonymous with next-generation communications networking, so it's now the core focus of the Light Reading team.
That's because the evolution to 5G is unlike any other mobile metamorphosis we have ever seen.
It's touching every part of the communications networking industry (and beyond), impacting investments, R&D plans, corporate cultures and long-term business strategies at companies that have no obvious connection to radio heads, baseband capacity or antenna arrays.
In our view, a successful 5G strategy will require network operators to address, in some way, a very broad range of technologies and processes, all of which will play a critical role in enabling them to capitalize on the full potential that a 5G deployment will offer.
All of these are pieces in the Big 5G Picture jigsaw puzzle: Miss, or dismiss, any of the 20 elements, many of which are interdependent, and the picture will be incomplete and opportunities lost. Deploy them together and there just might be something for 5G business case doubters to chew on.
Here's what the Big 5G Picture looks like: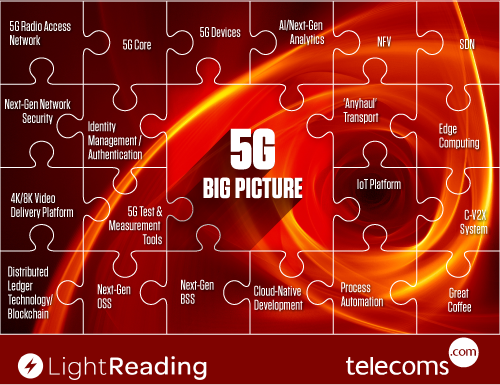 As you can see, this covers a broad range of technologies, including the likes of SDN and NFV, "anyhaul" transport, edge computing, AI/analytics, IoT and C-V2X platforms and more, as well as the 5G radio access network (RAN), 5G core and devices.
In other words, by focusing on 5G, we're focusing on pretty much the full range of communications networking technologies that are shaping the future of this industry.
Find out more about this and why all those puzzle pieces are important by reading our Prime Reading feature, Piecing Together the 5G Big Picture.
Of course, that doesn't cover everything the Light Reading team is obsessing about (but it accounts for a lot of it...): The puzzle identifies the underpinning technologies, but there's a great deal going on in the world of spectrum and in terms of the 5G services being offered and developed too, and that's all part of our coverage.
Add to that our ongoing coverage of the cable/video sector, the evolution of cloud infrastructure/services, enterprise service developments such as SD-WAN, and, as ever, a keen eye on the money and people that are shaping the communications industry, and that pretty much sums up what the Light Reading team is bringing to you on a daily basis.
Who We Are: Meet the Editorial Team

Contact us collectively at: [email protected]


Ray Le Maistre
Editor-in-Chief
Beats: OSS/BSS, test & measurement, packet-optical, coffee, movies.
Don't be fooled by the weird cod-French surname: Ray's as British as corned beef and bad teeth, despite affecting a sheen of Continental sophistication by his constant references to fancy-dan "proper" coffee. He's even trained as a barista, for god's sake.
Ray joined Light Reading in 2002 shortly after being shown the door and a very long corridor at Total Telecom. He has been in technology journalism since 1988, having worked at Computer Weekly, Communications WeekInternational and Communications International.
When not boring anyone within earshot about the latest batch of roasted coffee beans he's grinding during his monotonous morning rituals, Ray is often to be heard banging on about automation, the 'holy trinity' of tech+money+people and headlines he remembers from the last century.
As a soccer nut, Ray likes nothing better than cheap jibes about Manchester United. If you bump into him at a trade show, be sure to make some remark about prawn-sandwich-eating supporters who don't even know where Manchester is -- he'll love it!


Phil Harvey
US Bureau Chief
Beats: Carrier security, smart cities, old film cameras.
Phil Harvey has been a writer and editor for more than 20 years covering networking and telecom companies and Internet startups. He was a staff writer for UPSIDE and Red Herring, a contributing editor for D CEO, a managing editor at CRN and he spent more than 12 years as a writer and editor at Light Reading from October 2000 to April 2013. He likes nothing better than wandering the streets with his last-century photographic equipment and canisters of film before heading to the theater for a classic musical.


Jeff Baumgartner
Senior Editor
Beats: Cable. And video. From soup to nuts.
Jeff Baumgartner is a Senior Editor for Light Reading and is responsible for the day-to-day news coverage and analysis of the cable and video sectors. Baumgartner, who previously had served as Site Editor for Light Reading Cable from 2007-2013, was most recently Senior Content Producer-Technology at Multichannel News, heading up tech coverage for the publication's online and print platforms, and was a regular contributor to Broadcasting & Cable, a sister publication to Multichannel News. Baumgartner was named to the 2018 class of the Cable TV Pioneers.


Mike Dano
Editorial Director, 5G & Mobile Strategies
Beats: 5G (and all that goes with it), Edge.
Mike is responsible for leading Light Reading's 5G editorial strategy and coverage, including its news analysis, executive interviews, editorial content for live events, on-camera video interviews and more.
Based in Denver, Mike comes to Light Reading from FierceMarkets Telecom Group. He was Editor-in-Chief of the publication group for two years, spent five years as the group's Executive Editor and two years as one of its Managing Editors. Prior to his time at FierceMarkets, Dano spent nine years in various editorial roles at RCR Wireless News. So he 'knows his onions,' as the Brits on the Light Reading team would say.
Mike can walk, talk and tweet at the same time, so expect to see plenty of activity from him on social media (though he may also bump into you in the corridors of MWC…)


Iain Morris
International Editor
Beats: Automation, AI/analytics, international coverage, real ale.
Iain Morris joined Light Reading as News Editor at the start of 2015 -- and we mean, right at the start. His friends and family were still singing Auld Lang Syne as Iain started sourcing New Year's Eve UK mobile network congestion statistics. He is now International Editor, with responsibility for Light Reading's coverage of EMEA and Asia/Pacific (so, most of the world, really...) as well as leading our coverage of the super-hot topic of automation.
Prior to boosting Light Reading's UK-based editorial team numbers (he is based in London, south of the river), Iain was a successful freelance writer and editor who had been covering the telecoms sector for the past 15 years. His work has appeared in publications including The Economist (classy!) and The Observer, along with a variety of trade and business journals. He was previously the lead telecoms analyst for the Economist Intelligence Unit, and before that worked as a features editor at Telecommunications magazine. Iain started out in telecoms as an editor at consulting and market-research company Analysys (now Analysys Mason). He follows Blackburn Rovers, so be sure to remind him how good they were about 20 years ago and he might buy you a drink. And then weep in his pint.


Dan Jones
Mobile Editor
Beats: Mobile (5G, 4G, 3G, 2G, the Bee Gees), IoT, devices. And hats... all the hats.
Dan is to hats what Will.I.Am is to ridiculous eyewear. Fedora, trilby, tam-o-shanter -- all have graced the Jones pate during his career as the go-to purveyor of mobile essentials.
But hey, Dan is so much more than 4G maps and state-of-the-art headgear. Before joining the Light Reading team in 2002 he was an award-winning cult hit on Broadway (with four "Toni" awards, two "Emma" gongs and a "Brian" to his name) with his one-man show, "Dan Sings the Show Tunes."
His perfectly crafted blogs, falling under the "Jonestown" banner, have been compared to the works of Chekhov. But only by Dan.
He lives in Brooklyn with cats.


Alan Breznick
Cable/Video Practice Leader
Beats: Cable and video infrastructure and services. His middle name is DOCSIS.
Alan Breznick is a business editor and research analyst who has tracked the cable, broadband and video markets like an over-bred bloodhound for more than 20 years.
As a senior analyst at Heavy Reading for six years, Alan authored numerous reports, columns, white papers and case studies, moderated dozens of webinars and organized and hosted more than 15 -- count 'em -- regional conferences on cable, broadband and IPTV technology topics. And all this while maintaining a summer job as an ostrich wrangler.
Before that, he was the founding editor of Light Reading Cable, transforming a monthly newsletter into a daily website. Prior to joining Light Reading, Alan was a broadband analyst for Kinetic Strategies and a contributing analyst for One Touch Intelligence.
He is based in the Toronto area, though is New York born and bred. Just ask, and he will take you on a power-walking tour of Manhattan, pointing out the tourist hotspots and the places that make up his personal timeline: the bench where he smoked his first pipe; the alley where he won his first fist fight. That kind of thing.


Mitch Wagner
Executive Editor
Beats: Cloud, SDN, NFV, colored foods (such as "green rice").
San Diego-based Mitch Wagner is many things. As well as being "our guy" on the West Coast (of the US, not Scotland, or anywhere else with indifferent meteorological conditions), he's a husband (to his wife), dissatisfied Democrat, American (so he could be President some day), nonobservant Jew, and science fiction fan. Not necessarily in that order.
He's also one half of a special duo, along with Minnie, who is the co-habitor of the West Coast Bureau and one of Light Reading's most experienced chewers of sticks, though she is not the only one on the team who regularly munches on bark.
Wagner, whose previous positions include Editor-in-Chief at Internet Evolution and Executive Editor at InformationWeek, will be responsible for tracking and reporting on developments in the telco cloud market, identifying the role that AWS, Azure, Google Cloud and other public cloud players will play in the comms networking and services market, and keeping a beady eye on Silicon Valley and other US West Coast hotspots of innovation.


Kelsey Ziser
Senior Editor, Light Reading & Curator, 5G Exchange
Beats: SD-WAN.
Kelsey Kusterer Ziser is a senior editor at Light Reading, mainly covering SD-WAN developments, and the Curator at the 5G Exchange, Light Reading's authoritative resource of vetted 5G-related information provided by the industry. She also plays an important role in developing Light Reading's events program. Kelsey studied journalism and mass communication with a second major of Spanish at the University of North Carolina at Chapel Hill, but her interest in the telecom world started with a PR position at Connect2 Communications. Her drive for communicating the impact of new technology translated into a communications position at the FREEDM Systems Center, a smart grid research lab at N.C. State University. While at FREEDM, Kelsey orchestrated the center's webinar program which crossed multiple college campuses and covered research projects like cybersecurity in the smart grid and the center's smart solid-state transformer.
Outside the office, Kelsey can be found riding her ancient second-hand road bike through downtown, lagging behind the peloton of hipsters on fixie bikes. As a typical North Carolinian, Kelsey also stays busy waging an ongoing, fruitless battle with squirrels in the attic and snakes in the compost pile while shouting her go-to catch-phrase, "Nature! Get it off!" Kelsey actually quite enjoys the outdoors as well as black coffee, any movie about space, crafting and hoarding houseplants. She is often to be seen on video conference calls with Finley, our canine correspondent whose beats include cats, squirrels and biscuits.


Paul Rainford
Copy Desk Chief and Assistant Editor, Europe
Beats: Ensuring quality of published content, EMEA news, industry silly names, British quirks.
Based on the Isle of Wight, a rocky outcrop off the English coast that is home only to a colony of technology journalists and several thousand puffins, Paul has worked as a copy editor and sometime writer since the age of William Caxton, covering the design industry, D-list celebs, tourism and much, much more.
During the nougthies he took time out from his page proofs and marker pens to run a small hotel with his other half in the wilds of Exmoor. There he developed a range of skills, including carrying cooked breakfasts, lying to unwanted guests and stopping leaks with old towels.
Now back, slightly befuddled, in the world of online journalism, Paul is thoroughly engaged with the modern world, regularly firing up his VHS video recorder and sending text messages to strangers using a chipped Nokia feature phone.


Eryn Leavens
Special Features and Copy Editor
Beats: Ensuring quality of published content, WiCipedia, Animals With Phones, avocado toast.
Eryn Leavens, who joined Light Reading in January 2015, attended the School of the Art Institute of Chicago before earning her BA in creative writing and studio arts from Hampshire College in Amherst, Mass. She also completed UC Berkeley Extension's Professional Sequence in Editing.
She stumbled into tech copy editing after red-penning her way through several Bay Area book publishers, including Chronicle Books, Counterpoint Press/Soft Skull Press and Seal Press. She spends her free time lifting heavy things, growing her own food, animal wrangling and throwing bowls on the pottery wheel. She lives in Alameda, Calif., with two cats and two greyhounds.


Pierre Landriau
Head of Video, EMEA
Pierre Landriau, a.k.a. "Le French Producer Extraordinaire," knows his way around B2B video marketing after working at three major UK publishing companies; Haymarket, UBM and now Informa. But don't let this B2B pedigree blind you to his innate coolness: He maintains he's on IMBD and once somehow wormed his way into MTV for a day or two. Quotes: "I can edit this with my eyes closed." "Sorry I missed that, my eyes were closed." "Wait, which airport did I come from again?"


Tien Fu
Senior Creative Video Producer
Tien Fu joined Light Reading on the understanding he could translate some emails and help the video team communicate with clients. Unfortunately he is from Taiwan and doesn't speak either English or Mandarin too well. He did go to some film school in New York and claims to be "slightly above average" in video production skills, so Light Reading thought having him around would add some glamor and wouldn't hurt anybody. A typical day would find him juggling three different video projects while arguing why Dunkirk is not that good a movie. On a bad day… well, let's just not go there.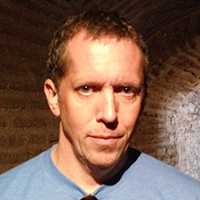 Stephen Saunders
Founder
Saunders began his publishing career as a journalist before launching Light Reading in 2000, followed in short order by Heavy Reading (www.heavyreading.com) and Dark Reading (www.darkreading.com). This triptych of online startups covering telecommunications news, telecommunications research and security news, respectively, were acquired by UBM in 2005 for $33 million - a record for a tech publishing startup, at the time or since.
Saunders then bought Light Reading and Heavy Reading back from UBM in January 2014.
In the intervening years (2008 – 2013), Steve founded Internet Evolution, a groundbreaking (and window-shaking, and fist-shaking), award-winning, global, online community dedicated to investigating the future of the Internet.
In March 2008, Saunders was inducted into Min's Digital Media Hall of Fame.
In April 2009, he was named to the No. 2 spot on Folio magazine's Folio 40 ranking of magazine industry influencers and innovators, one ahead of President Barack Obama. The magazine subsequently revised the list following a public outcry, demoting Saunders to the No. 3 spot (true story).
He was named Min's Marketer of the Year in September 2010. No outcry ensued.
In the last 25 years, Saunders has won more than 100 awards for journalism and publishing, an industry record.
Saunders is the author of three more books than you: The Data Communications Gigabit Ethernet Handbook (McGraw-Hill, 1998), The McGraw-Hill High-Speed LANs Handbook (McGraw-Hill, 1995) and The True Story of King Arthur (48hourbooks, 2009). Gripping reads, all. Especially the last.
In July 2016, Saunders sold Light Reading to Informa: See Light Reading Beyond.
Saunders left Light Reading in 2018 to explore new business opportunities and tour with his band, Wartoad.
For the biographies of the Heavy Reading analysts -- you know, the really clever folks -- please click on this link.
To reach Light Reading's sales and marketing team, please send an email to [email protected] with your request.
Guidance for PR professionals and others wanting to contact the editorial team
If you work in the industry and have a hot tip about breaking news in the global communications market, please email us at [email protected]
Likewise, if you're at an industry event, conference, meeting, party, and you have any pictures you'd like to share with us (for publication on the site), please do get in touch.
If you work in public relations or any other media outreach role, here are some ways you can improve your hit rate and make our lives easier:
Is Light Reading really the suitable publication for your company/client? Take a look at what we write about on the site -- is it the right fit? Be sure before you contact us or you may quickly be labelled a time-waster and subsequently ignored.
If Light Reading really is the publication of your company/client's dreams, do not: send an email without a subject line (we will delete it); send an attachment (PDF, etc.) unless asked to do so (for example, if you offer us a picture and we accept); send an email that begins "Dear xxx," or "Dear blogger." Ugh!
Instead, send us an email with your message/press release pasted into the body of the email so we can read it easily. It's simple! You could even put a short message at the beginning to tell us why you think it's of interest to the Light Reading community -- if you care, then it's more likely we will too.
And remember people, it's only an embargo if we agree to it -- without prior agreement, everything interesting (and, just occasionally, we do get something interesting) goes straight onto the site.