The top 7 questions hanging over the Connect X show
The top 7 questions hanging over the Connect X show
Was 5G worth it? And what are Verizon, AT&T and T-Mobile going to do next? These were some of the issues discussed in New Orleans this week at the Wireless Infrastructure Association's big show. NEW ORLEANS – The Connect X show, hosted by the Wireless Infrastructure Association (WIA), has become a must-attend event for the US wireless industry. It brings together most of the critical parts of the ecosystem – from networking equipment vendors to cell tower owners to wireless network operators – but it largely dispenses with the 5G chest-puffing and marketing nonsense that's typical of most other high-level shows like MWC Vegas.
Figure 1: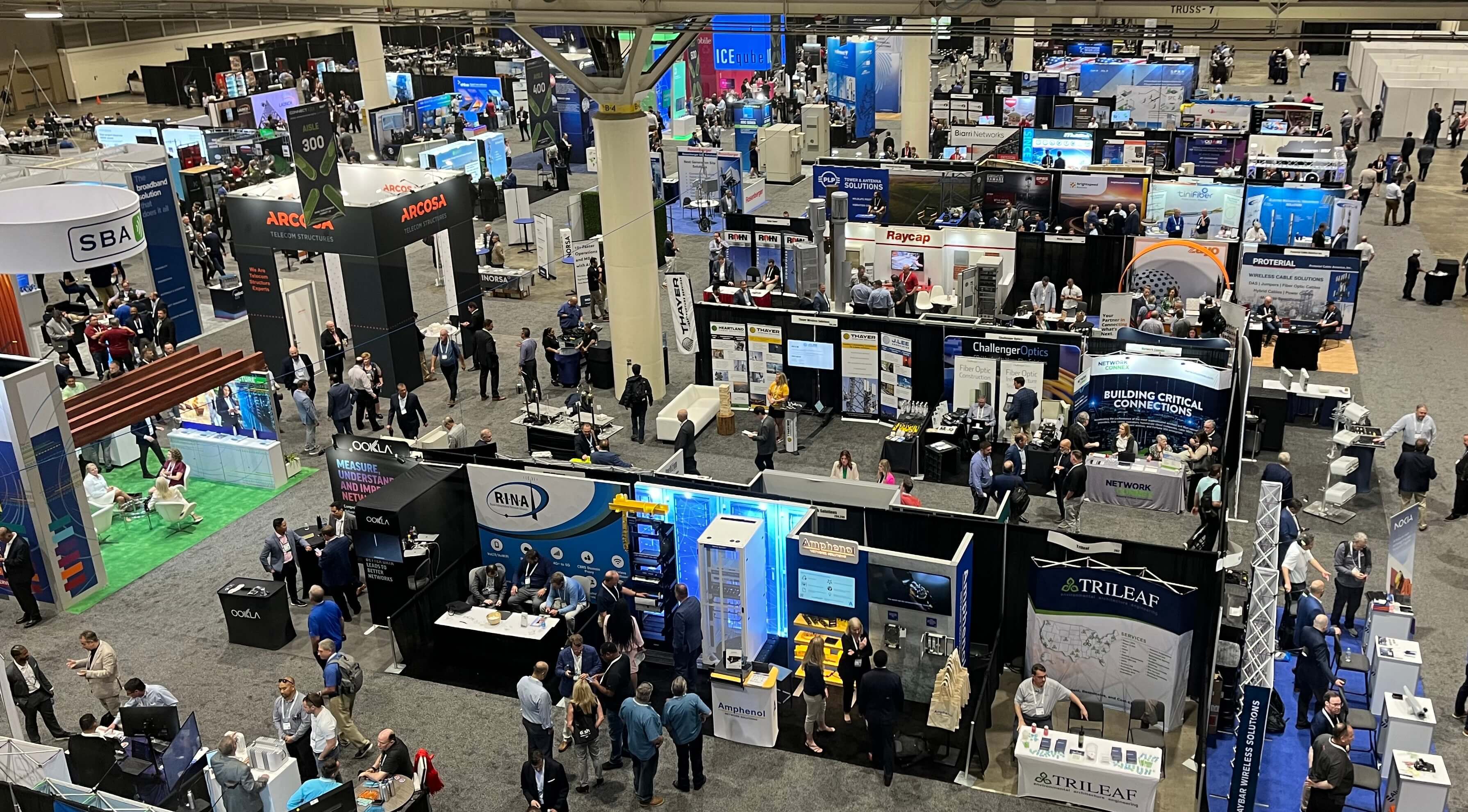 The Connect X 2023 show floor.
(Source: Mike Dano / Light Reading)
Instead, Connect X mostly focuses on the real-world pragmatics of the here-and-now. Driven mainly by suit-and-tie tower executives, Connect X attendees generally focus on how they're going to make money from wireless, instead of whether 5G will usher in the fourth industrial revolution.
Thus, the show serves as a particularly good barometer for an industry suffering from widening layoffs amid persistent fears of a recession. Already US network operators have made it clear that they're going to tighten their purse strings later this year after several years of historically high spending.
So what were the hot topics at Connect X this year? Here's what attendees were talking about:
1. Was 5G worth it?
5G certainly arrived with plenty of hype. But now that the industry is putting the finishing touches on three nationwide networks that span lowband, midband and (in some cases) highband spectrum, Connect X was awash in worries over whether that investment will pay off.
The general consensus was: Probably.
Jay Brown, the CEO of tower company Crown Castle, argued that there were similar questions in the early days of 3G and 4G, and those technologies generally proved worthwhile. He noted that fixed wireless access (FWA) represents the first real, tangible innovation – and the first clear source of new revenues – based on 5G.
FWA, of course, took the US Internet market by storm last year, helping to suck business away from the seemingly unstoppable cable industry.
Further, FWA is just the start, according to Brown. "I think we'll see more" 5G applications, he said.
Brown wasn't alone in that assessment. Jeff Stoops, the CEO of tower giant SBA Communications, said there are "all kinds" of new applications in the works that will use 5G. "They're coming," he said.
There's no telling whether that's true. But there are certainly hopes that Apple will create another "iPhone moment" – one that could spark demand for faster networks – with its rumored AR glasses later this year.
2. What are Verizon, AT&T and T-Mobile going to do next?
Now that all three of the nation's big wireless operators are nearing the end of their initial 5G buildout programs, they are planning to dial down their network spending. But that doesn't mean they'll turn off the tap completely.
"We came away encouraged about the outlook," wrote the financial analysts for Wells Fargo in a note to investors about the Connect X show. They pointed out that Verizon is working to expand the reach of its network, while AT&T and T-Mobile are waiting for dual-band radios in order to more broadly deploy their C-band and 3.45GHz spectrum holdings.
Stoops, with SBA, said that he expects US operators in general to continue to densify and improve their networks across the country over the next few years after spending their initial 5G efforts covering dense, urban areas. He said the operators followed the same pattern in building out their 4G networks roughly a decade ago.
"Mobile data traffic is not slowing down," added DigitalBridge CEO Marc Ganzi during a keynote presentation.
But the financial analysts at KeyBanc Capital Markets did acknowledge a slowdown in operator interest in network buildouts. "Some tower management teams believe we are at 'halftime' in terms of 5G deployment," they wrote in an assessment of the Connect X show. "We didn't hear much clarity in terms of when carriers would reaccelerate."
3. What's up with Dish?
Dish Network is working to become a viable fourth network operator in the US – a tantalizing prospect to cell tower owners looking for more customers interested in their vertical real estate holdings. However, Dish's spending pause – set to go into effect later this year – represents a concerning development for the industry in general.
"Dish's health was clearly a subject of interest, but the tone from tower companies continues to be far less concerned than the debt and equity capital markets," wrote the financial analysts with Raymond James in their own assessment of Connect X.
"Dish remains [an] unknown wildcard," agreed the Wells Fargo analysts.
The Wells Fargo analysts estimated that Dish will spend around $450 million with the nation's big cell tower companies in 2025, up from $235 million this year.
Others, though, continue to worry.
"Coming back from Connect X I am even more pessimistic about Dish than I was before I went to New Orleans," wrote Recon Analytics analyst Roger Entner on Twitter.
4. Is tower climbing a safe career?
The WIA – the main trade association for the cell tower industry – spent much of its time at the Connect X show discussing its efforts to supply fresh networking technicians to companies in the space. One new tactic: Training prisoners to climb towers so they can immediately begin working when they get out of jail.
But workforce issues have long been a favorite topic of both the WIA and NATE, another association catering to the cell tower industry.
Now, though, the organizations are dealing with a new factor: A push by the CWA to encourage unionization among tower climbers. During Connect X, the CWA's Tower Climbers Union released a new survey it said highlighted potentially dangerous working conditions among cell tower climbers.
A number of players in the industry expressed doubts about the CWA's survey, however. "We take care of our people, and anyone who would say otherwise is making a mistake," said Stoops, of SBA.
And Wireless Estimator, a publication that closely follows the cell tower industry, published a lengthy look at the "questionable" data behind the CWA's survey.
5. Will the US government subsidize wireless networks?
During Connect X there was plenty of talk about the billions of dollars in government subsidies headed into the telecom industry in the months and years to come. And there was a fair amount of grumbling about the government's clear preference for fiber over wireless in the distribution of those funds.
"We're spending a lot of time on it," said Alex Gellman, the CEO of tower company Vertical Bridge.
Interestingly, a number of executives in the space expressed confidence that they would be able to convince state regulators to funnel at least some subsidies to wireless networks in remote areas where fiber might be too expensive to build.
"There will be an opportunity for wireless. You just have to find it," Gellman said.
The WIA's new chief executive, Patrick Halley, said the organization is now working with state officials across the country to promote the notion of fixed wireless as a suitable, cheaper alternative to fiber. "Each state is going to be a lot different" in their funding priorities, Halley explained. "We're speaking with a lot of state operators."
6. Will Congress fund the "rip and replace" program?
Another hot topic among smaller wireless carriers – and their equipment and tower suppliers – was the possibility of another $3 billion in "rip and replace" funding from Congress.
Congress has already allocated about $1.9 billion for its Secure and Trusted Communications Networks Reimbursement Program, widely known in the telecom industry as the "rip and replace" program because participants are charged with ripping out Huawei and ZTE equipment and replacing it with "trusted" equipment from companies such as Ericsson, Nokia and Mavenir.
However, dozens of mostly smaller US network operators participating in the effort believe that far more funding is needed – roughly $3 billion more – to finish the job.
In recent weeks they've been working to ratchet up pressure on legislators to free up more funding for the program. Indeed, during the Connect X show the issue received a lengthy writeup in The New York Times.
As Inside Towers noted, Sen. Deb Fischer (R-NE) is helping push legislation that would release more funding to the program. But in the meantime, the dozens of companies hoping to get federal money to remove Chinese-supplied equipment from their networks are working to make due with around 40% of their funding requests.
During the Connect X show, the Rural Wireless Association (RWA) hosted a panel discussion with executives involved in the "rip and replace" program, including Chris Townson of DTC Communications, Brian Hough of PTCI, and Leslie Williams of SI Wireless. Generally, the executives argued they were in an untenable position with insufficient funding to support a government requirement to remove Chinese-supplied equipment from their networks.
7. What about edge, AI and private wireless?
Many of the discussions at the Connect X show focused on "the next big thing." Where might more innovation and investment come from?
In a keynote presentation, DigitalBridge's Ganzi argued that generative artificial intelligence (AI) like ChatGPT would help drive investments into data centers and, eventually, edge computing. He also argued that businesses would increasingly invest in private wireless networking technologies.
Other executives expressed similar hopes. Broadly, they argued that enterprises would inevitably increase their telecom spend in order to keep pace with technological developments and competitive advances.
But most executives agreed that such revenue opportunities remain firmly entrenched in the future rather than the present. "Other potential drivers include Augmented Reality (AR), the data usage spurred by use of Artificial Intelligence (AI), and the still-nascent private networks industry, while edge [computing] opportunities at tower sites still remain very uncertain and several years out," summarized the financial analysts with Raymond James.
"5G plus AI is going to equal something big. I just don't know what it is yet," said Gellman, of Vertical Bridge.
Related posts:

— Mike Dano, Editorial Director, 5G & Mobile Strategies, Light Reading | @mikeddano
Subscribe and receive the latest news from the industry.
Join 62,000+ members. Yes it's completely free.
You May Also Like
---