The outlook for 5G open vRAN
With around 7 million macro cell sites deployed worldwide, the radio access network (RAN) is critical global infrastructure. Virtual RAN (vRAN) is a new approach to serving this market that aims to bring cloud economics and operating principles to mobile networks. Already there are successful examples of LTE vRAN in commercial networks and there is tremendous interest in this technology approach from operators across the globe.
Today's vRAN is, however, still some way behind state-of-the-art in terms of system performance. A common vRAN configuration is a base station that supports 2x2 MIMO on a single carrier per sector. This is suitable for rural and low-density suburban markets, but not enough to cut it in high-capacity urban scenarios, where multi-carrier and 4x4 MIMO systems are typically used.
The good news is that this performance and feature gap is closing fast, with vendors and operators now delivering and deploying 4x4 MIMO in Tier 1 urban markets, and with multicarrier "white box" radios in the pipeline. It's not fully there yet, but LTE vRAN is becoming more competitive every day and looks like it can become a competitive option for greenfield networks, for coverage extension and for LTE RAN refreshes.
In 5G the picture is less clear cut. Integrated vendors have been shipping 5G base stations for over 18 months already and have been accumulating performance data and operating experience as they go. They are now on their second generation of 5G baseband and radio products (including 8x8 and massive MIMO radios) and set to introduce features such as dynamic spectrum sharing, 5G carrier aggregation and advanced RAN coordination over the course of 2020. For open vRAN to penetrate high-end, high-capacity markets, it is imperative that this gap to 5G is closed significantly and rapidly.
To be clear, open vRAN vendors do not need exact feature or performance parity with integrated systems, but they do need to be sufficiently competitive in the next couple of years that the benefits of open, disaggregated systems can compensate, and then come to the fore. This may include, for example, advantages related to running 5G on common edge cloud infrastructure, to automated operations, faster innovation cycles, off-the-shelf hardware, software programmability and so on.
A recent Heavy Reading operator survey asked respondents if they believe it is practical to virtualize a 5G baseband function – a.k.a. the Distributed Unit (DU) or digital processing part of base station – for commercial deployment within two years. As shown in the chart below, of the 139 respondents, a majority (60%) said "yes" in some form, made up of 31% saying "yes, with feature and performance parity" and 29% saying "yes, but with feature or performance impacts." A further 28% opted for "probably."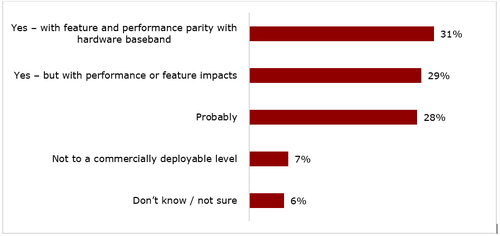 This is a positive and optimistic view on the prospects for 5G open vRAN. But it is not irrationally positive. There are already signs 5G vRAN will be available from vendors within two years and, if these systems can get to 80% of the capability of vendor integrated systems, in that timeframe, and if competitive open Radio Unit (RU) products can be delivered, then this technology will be a force to be reckoned with.
Personally, although I am optimistic, I believe feature and performance parity will be challenging for commercially deployable system in this time period. I therefore tend towards the view that virtual 5G will be achieved, but with compromises relative to vendor-integrated state-of-the-art.
You could say this makes me a fan of both approaches. But this isn't a simple case of "hedging my bets" in the best analyst tradition. Rather, it is recognition that major operators are likely to support and deploy both models. Indeed, this would represent healthy and desirable competition in the 5G RAN sector. The question really is where does the balance between vendor-integrated and open systems lie, and which network locations and applications are better suited to which approach?
— Gabriel Brown, Principal Analyst, Mobile Networks & 5G, Heavy Reading
This blog is sponsored by Intel
Like what we have to say? Click here to sign up to our daily newsletter
One of America's most loved telecoms get-togethers, The BIG 5G Event, will be returning to Austin in 2023 to host 1,500+ telecom, cloud and technology professionals — and we want you to be a part of it!
For three days, you can meet and network with leaders from every part of the North American 5G ecosystem and hear from over 150 speakers on the hottest industry topics. To apply for your complimentary pass to the event, visit this link.