Nokia makes 5G waves with its ReefShark chip
BARCELONA -- MWC 2018 -- Nokia played up the advantages of having in-house chip development here on "Day 0" of Mobile World Congress by stressing how important its ReefShark silicon has been in snagging big-name operators for 5G trials and development work.
In a presentation here to media and industry analysts, Nokia CEO Rajeev Suri trotted out a roll call of major mobile operators that have engaged with the vendor for their 5G plans, including NTT DoCoMo -- which signed the industry's first commercial 5G contract with Nokia earlier this month -- KT and SK Telecom in South Korea, Orange, Telefónica, Verizon, T-Mobile, Etisalat, Zain, Vodacom in South Africa and Vodafone, which today announced it is testing services over a trial 5G network in Milan (starting with high-definition video) in partnership with the Finnish vendor. (See Nokia Lands 5G Deal at NTT DoCoMo .)
Suri also noted that he signed a 5G deal with China Mobile's chairman Shang Bing on Sunday morning that will see the two companies develop new 5G business opportunities for various industry verticals, "leveraging key growth areas of smart cities, smart transportation and intelligent video analytics," the vendor noted in a press announcement.
That takes the number of operators undertaking 5G developments with Nokia to more than 50, of which more than 30 are working with pre-launch prototypes of the vendor's ReefShark chipset, which was launched in January and which will become commercially available in the third quarter of this year. (See Nokia Adds Extra Bite to Its 5G Pitch .)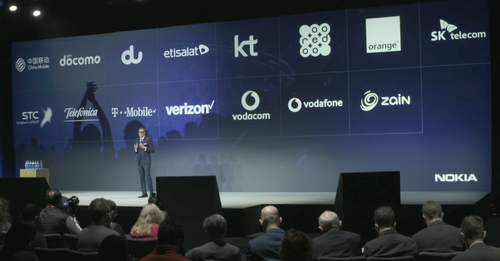 That chipset could be Nokia's 5G ace card: Developed in-house, the component has been designed to support its broader Future X architecture development, and, claims the company, can boost cell site throughput three-fold, significantly reduce massive MIMO antenna size and power consumption, use embedded AI capabilities to optimize radio resource usage and "support network slicing." All such developments will be compelling to network operators desperate to figure out how to improve efficiencies and benefit from the much-hyped advantages of 5G architectures.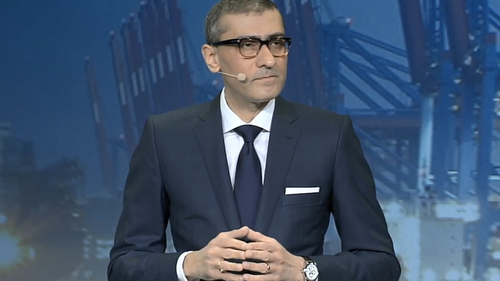 Slow 5G burn in Europe
The major 5G action is going to take place in the US and China initially, noted the CEO, while Europe will have fewer major early 5G investments and rollouts due to the fragmented nature of the European mobile landscape and the tighter squeeze on capex availability amongst European operators that is partly caused by low-margin data service offerings. "Europe needs more industry consolidation, less regulation and greater data usage that can be [effectively] monopolized," said the CEO, adding that European mobile average revenue per user (ARPU) numbers were low compared to, for example, the US operators.
"There will be 5G launches in Europe in 2019 but not to the same scale as we will see in the US and China," he added. And, of course, while it's harder for Nokia to win business in China, where Huawei and ZTE dominate the market share, the US market is a no-go zone for the Chinese duo.
But even without Huawei and ZTE, how much action will Nokia see from AT&T's 5G plans? Rival Ericsson seems to be in the driving seat in terms of 5G traction there. "We are well positioned with all of the major US operators … AT&T, Sprint, T-Mobile and Verizon," was Suri's response to a question about Nokia's 5G prospects at AT&T.
— Ray Le Maistre, Editor-in-Chief, Light Reading
Like what we have to say? Click here to sign up to our daily newsletter
One of America's most loved telecoms get-togethers, The BIG 5G Event, will be returning to Austin in 2023 to host 1,500+ telecom, cloud and technology professionals — and we want you to be a part of it!
For three days, you can meet and network with leaders from every part of the North American 5G ecosystem and hear from over 150 speakers on the hottest industry topics. To apply for your complimentary pass to the event, visit this link.
EDUCATIONAL RESOURCES



PARTNER PERSPECTIVES
- content from our sponsors