Roughly two years ago, a strange thing started to happen in the US wireless industry. Wireless network operators like AT&T, Verizon and T-Mobile all began reporting outsized customer gains every quarter.
According to Roger Entner, an analyst with Recon Analytics, the trend accelerated during 2021. He calculated that the US wireless industry in general is on track to grow by fully 10 million new customers this year, or more than double its traditional rate.
It has certainly caused some head scratching. "What drove that improvement?" wondered David Barden, a financial analyst with BofA Global Research, during a recent AT&T investor event.
Not surprisingly, answers span the gamut: Prepaid customers are signing up for postpaid plans; business users are adding a second line of service; and COVID-19 stimulus checks are driving more wireless sales.
But there's one more factor that could be affecting the situation: Children getting their first smartphone at younger and younger ages, thus expanding the industry's overall addressable base.
Executives at the nation's big wireless service providers have acknowledged this new growth ingredient.
"The reality of the pandemic has also meant that people have accelerated the trends of younger people and older people being connected because of that requirement to make sure that people were readily connected in an environment where people were staying in touch in a different way. They weren't necessarily physically seeing people as often as they were," explained outgoing Verizon executive Ronan Dunne during a recent investor event. "So, we've certainly seen evidence of that slightly younger age group and slightly older age group, who have been coming into the smartphone space. And so, I think, those trends are real growth."
Other executives have agreed. According to AT&T's new CFO, Pascal Desroches, kids are "getting phones probably a little bit earlier."
And T-Mobile CFO Peter Osvaldik concurred, though he did so in a roundabout way: "There's expanding age demographics," he said during a recent investor event.
Crayon surveys
The newest smartphone numbers from the Pew Research Center show that 85% of Americans age 18 and older own the gadgets, up from 81% in 2019.
But among survey respondents between the ages of 18 and 29, that number jumps to 96%. And if you include flip phones in the count, cell phone penetration among this age group rises to 100%.
However, comprehensive data on children's smartphone use is difficult to obtain, for obvious reasons. During the height of pandemic lockdowns in 2020, which forced millions to work and school from home, Pew looked specifically at children's screen time, including whether parents thought they should own a phone.
"The ages of 12 to 14 seem to be a major milestone in parents' eyes for smartphones," Pew researchers wrote last year. "This survey finds that a majority of parents (73%) believe it is acceptable for children to have their own phone only after they have reached at least the age of 12. Some 45% say smartphone ownership is acceptable between the ages of 12 and 14, and 28% say it is acceptable between the ages of 15 and 17. Just 22% think it is OK for a child under the age of 12 to have one."
The researchers also found that around 17% of parents with a child aged 11 or younger reported having purchased their kid a smartphone.
Will that number grow? Some believe it will. The financial analysts from New Street Research wrote in an October report that smartphone sales among kids and seniors "has likely been driving most of the increase in mobile penetration for several years."
But they argued that sales of phones to kids may not be the main driver of growth in the industry this year. Smartphone sales among kids "ought to be slowing, not accelerating," they wrote.
Instead, they pointed to a significant reduction in "non-pay churn," or the number of customers who are cut off for not paying their bills, as a driving reason for the industry's outsized growth in 2021. Such customers often float in and out of carriers' quarterly customer additions – but due to COVID-19 stimulus checks they've been sticking around longer than normal. And that, according to the analysts, has been "inflating the base" by "keeping indigent consumers from leaving the industry." This situation, coupled with other trends like sales of service to kids, business customers and tablet users, may help explain the industry's overall customer growth.
Implications, ramifications and context
Regardless, the notion of kids as a growth engine for wireless service providers isn't a new one. After all, Sprint MVNO Kajeet launched almost 20 years ago to sell kid-friendly services for tweens and teens. The company even introduced a phone specifically designed for its target audience.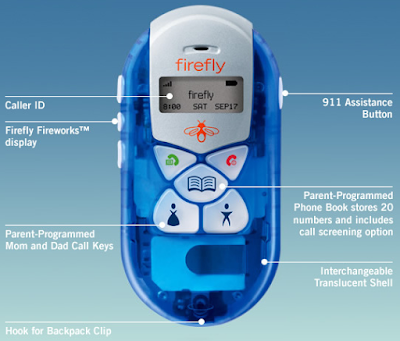 In 2014, Sprint followed suit with its own WeGo phone for kids aged 5-12. "Sprint WeGo is the perfect starter phone to give parents peace of mind while teaching kids responsibility," a Sprint executive explained at the time.
But that era has passed. Kajeet shuttered its MVNO service in 2017, and Apple and Samsung now command a virtual stranglehold on the device side of the industry.
However, due to increasing smartphone usage among younger and younger kids, children are now viewed as a growth opportunity to a variety of companies adjacent to the wireless industry. For example, Instagram is still flirting with the possibility that it will build a version of its social media service for children, despite mounting evidence that Instagram usage can negatively impact teens' mental health.
And the Life360 app, with over 30 million users, is marketed as a way for parents to track their children's movements using their cellphones. Importantly, it's also selling that location data to around a dozen third-party data brokers, according to a report from The Markup.
After all, there seems to be virtually no bottom to the kid-phone market. According to Pew's 2020 survey, 13% of parents with a child aged 5-8 reported purchasing them a phone. And 3% of parents with a child aged 2 or younger reported purchasing them a phone.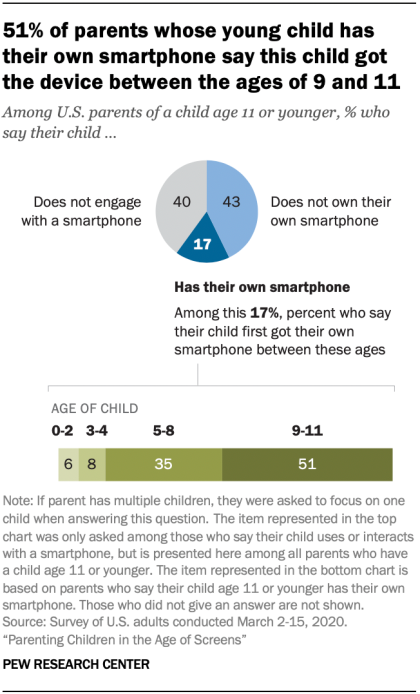 Related posts:

— Mike Dano, Editorial Director, 5G & Mobile Strategies, Light Reading | @mikeddano