Also in today's EMEA regional roundup: social media back on in Ethiopia; Enea joins multivendor 5G SA core initiative; EE boosts rail connectivity as UK pandemic restrictions ease.
Vodafone's 5G network is providing the connectivity for trials of remotely assisted surgery conducted at the University Hospital of Wales and University Hospital Llandough, which is also in Wales. For the trials Vodafone teamed up with Proximie, a global technology platform that allows clinicians and surgeons to "scrub in" to any operating room or catherterization lab from anywhere in the world. The technology allows participants to interact with what the surgeons see in the operating room – their hands can even be superimposed on the video feed of the patient's anatomy to help give precise instructions during the operation.
Meanwhile, in the small-business sectors of the UK, Italy and Spain, Vodafone is launching what it's calling "business boosting packages" intended to help companies on the digital front. Elements include setup support, where companies looking to migrate a website or online store get access to specialist one-to-one support, and help with safeguarding customer data.
Access to Facebook, WhatsApp and Instagram have been restored in Ethiopia after they were apparently restricted earlier on Monday, Reuters reports (paywall applies). The interrupted service, at six locations across the country, was spotted by NetBlocks, a London-based Internet-monitoring company. The outage may be linked to the fact that Ethiopia's parliamentary elections have just been postponed for a second time.
Sweden's Enea has joined Telenor's initiative to create "the world's most diverse" multivendor 5G standalone core offering, supplying Telenor with its cloud-native 5G data management tools that include its telco-grade Unified Data Manager (UDM), which can support up to 10 billion data entries at a rate of 1 to 500,000 transactions per second.
Anticipating a surge in rail travel in the UK as remaining pandemic restrictions tentatively begin to ease, mobile operator EE has been upgrading its 4G network across key commuter rail routes into London. EE has improved connectivity on seven sections of the route between London Euston and Birmingham New Street stations and six between London Victoria and Brighton. Other lines to see upgrades include London Paddington to Reading, and London Liverpool Street to Chelmsford.
And in related news, EE parent company BT has been lighting up the iconic BT Tower in London with the message "Less URL, more IRL. Welcome back." No, we didn't understand the IRL bit either: It stands for experience In Real Life (as opposed the URL of the online world). As from today, Brits are allowed, for the time being at least, to return to the cozy interiors of pubs and restaurants in groups of up to six people or two households.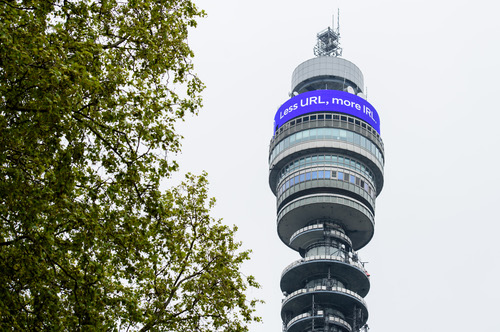 London-based Colt Technology Services has appointed Jaya Deshmukh as executive vice president of strategy and transformation. Deshmukh joins Colt from Google Cloud, where she held the role of head of strategy for the EMEA region.
UK fiber latest: CityFibre has begun work on its £30 million (US$42.3 million) network in Preston, a northern city famous for egg-rolling and drizzle, while on the other side of the Pennine hills TalkTalk's full-fiber expansion reaches Doncaster.

— Paul Rainford, Assistant Editor, Europe, Light Reading