Eurobites: 5G 'pacesetters' win gold, says Ericsson study
Also in today's EMEA regional roundup: Orange launches open RAN lab; EU court upholds Google fine; Vodafone reorganizes in Africa.
When it comes to 5G, it helps to be ahead of the game. That's the perhaps not very surprising conclusion of a new study from Ericsson, 5G Pacesetters: Winning in the Eyes of Consumers and Growing Revenues, which claims that "5G pacesetters" are three times more likely to retain customers and almost twice as likely to grow average revenue per user (ARPU) and mobile services revenues compared to those other operators languishing near the back of the 5G pack. According to Ericsson, such pacesetters are not necessarily the obvious market-share leaders or incumbents in their local markets; rather, they tend to be more innovative when it comes to 5G consumer services, offering such fancy-dan applications as cloud gaming and immersive video.
Orange has opened what it says is the first laboratory in France dedicated to the development of open RAN, the technology that in theory allows operators to avoid the curse of so-called "vendor lock-in." The Orange Open RAN Integration Center is located at Orange Gardens in in Châtillon, near Paris. Among the companies who have already said they will test their products at the new facility are Dell, Intel, Nokia and Samsung.
The European Commission's General Court has "largely" dismissed Google's appeal against the €2.42 billion (US$2.79 billion) fine imposed on it for what were seen by Brussels as anticompetitive practices relating to shopping-comparison search results. In its ruling, the General Court said that "by favouring its own comparison shopping service on its general results pages through more favourable display and positioning, while relegating the results from competing comparison services in those pages by means of ranking algorithms, Google departed from competition on the merits." Google has two months and ten days in which to appeal against the General Court's decision. (See Eurobites: EU Fines Google $2.7B Over Shopping Shenanigans.)
Vodafone Group has agreed to transfer its 55% stake in Vodafone Egypt to Vodacom, its sub-Saharan African subsidiary, for $2.74 billion. According to Vodafone, the transfer simplifies the management of its African holdings.
Separately, Vodacom said it has agreed terms to acquire a co-controlling 30% stake in fiber assets owned by Community Investment Ventures Holdings. A newly formed company will absorb assets currently owned by Dark Fibre Africa and Vumatel, in addition to certain Vodacom-owned assets.
As rebel forces and their allies advance on the Ethiopian capital, Addis Ababa, Safaricom has decided to evacuate some of its employees from the country, Business Daily reports. Safaricom, whose main market is Kenya, had planned to begin operations in Ethiopia next year, says the report.
Three UK is hoping to increase its slice of the business market through a number of partnerships with companies who will resell its services. Those signed up so far include Sprint, Business Mobiles and Get Connected.
Barack Obama brought rock-star charisma, Boris Johnson brought inappropriate cultural references and today it's the turn of Openreach CEO Clive Selley to strut his stuff on the stage at Cop26, the international climate-change blah-fest in Glasgow that seems to have been going on for weeks. Selley will be talking about electric cars and broadband, among other things.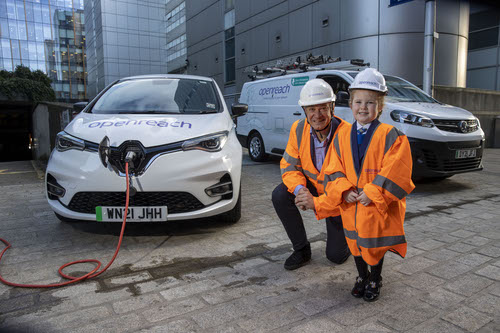 — Paul Rainford, Assistant Editor, Europe, Light Reading
Like what we have to say? Click here to sign up to our daily newsletter
One of America's most loved telecoms get-togethers, The BIG 5G Event, will be returning to Austin in 2023 to host 1,500+ telecom, cloud and technology professionals — and we want you to be a part of it!
For three days, you can meet and network with leaders from every part of the North American 5G ecosystem and hear from over 150 speakers on the hottest industry topics. To apply for your complimentary pass to the event, visit this link.
PARTNER PERSPECTIVES
- content from our sponsors