 Are you aware of the finger proximity effect? If you're not now, you will be, because smartphone designers will need to be acutely aware of it when designing 5G smartphones using high-band millimeter wave devices.
The concept is simple: Your fingers or hand can block the signals from the phone antenna. Otherwise called "human blockage," this a known issue in wireless design. Millimeter wave (mmWave) antennas at 28Ghz or 39Ghz exacerbate the issue, however, because those devices using tiny antenna strips with miniscule directional beams to get their 5G gigabit mojo -- a process known as "beamforming."
I've already reported on how mmWave antennas in the network can be blocked by humans, foliage, low-energy glass, and other building materials. You can imagine that that the effect is much more likely on a device designed to fit in your hand. (See 5G Will Change How Your Smartphone Is Designed and Could 5G Have Found Its Glass Ceiling?)
Want to know more about 5G? Check out our dedicated 5G content channel here on
Light Reading.
We appear to see this effect in the designs of the the Motorola Mobility LLC Moto Mod 5G module for its z3 phone -- which apparently moves the 28GHz antennas out of the hand's way -- and prototype 5G phones from Samsung Electronics Co. Ltd. (Korea: SEC) spotted at the Qualcomm Snapdragon Tech Summit in Maui, Hawaii this week. (See Verizon Plans to Offer Samsung 5G Phone in H1 2019.)
TechRadar spotted spotted that the phone has a notch in its top right-hand corner:
Figure 1: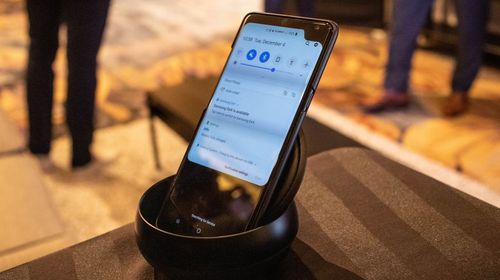 Source: TechRadar
Samsung has said that its device is a prototype and design can change. Nonetheless, expect to see more changes from smartphone makers, like the use of glass in the device casings to facilitate mmWave connectivity.
Qualcomm has developed mmWave RF antennas (QTM052)that can be used around the top of the phone and switch between antennas, if one of them is blocked, the phone can switch antenna elements. (Ed note: Kinda assumes you have small hands, right?) It's not clear if these antenna elements be used in prototype phones yet, as they're due out in 2019. (See Qualcomm Unveils New Modules to Power Millimeter Wave 5G for Smartphones.)
— Dan Jones, Mobile Editor, Light Reading
Subscribe and receive the latest news from the industry.
Join 62,000+ members. Yes it's completely free.
You May Also Like
---