5G New Calling Opens Vast Service Opportunities for Carriers
Partner Perspectives
Huawei
5/2/2023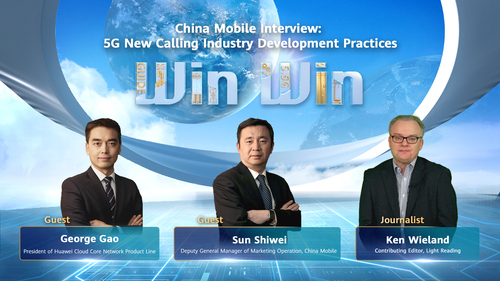 As 5G networks expand, pioneering carriers have started introducing 5G New Calling services that combine voice with UHD video, artificial intelligence (AI), augmented reality (AR), screen sharing, and even real-time language translation in immersive user experiences.
New Calling not only enhances communications between individuals and enterprise users, but also creates monetization opportunities for operators. "5G New Calling is now one of China Mobile's strategic products," said Sun Shiwei, Deputy General Manager of Marketing Operations for China Mobile. "5G New Calling upgrades the traditional calling services by providing richer media and real-time in-call interaction, which brings a brand new user experience."
Sun spoke with Light Reading at the Win Win extended reality studio during MWC Barcelona 2023. He was joined by George Gao, President of Huawei Cloud Core Network Product Line, a China Mobile partner. The discussion centered on New Calling services both companies have introduced, collaborations between the partners, future offerings, and associated technology challenges.
"The New Calling unleashes vast market potential for calling services and improves the overall user experience," says George Gao, "It will also empower the vertical and improve communication efficiency and user satisfaction".
China Mobile has launched 5G New Calling in July 2022 with the introduction of smart video calling services that support AR and artificial intelligence (AI). These services do not require device upgrades, Sun said, but subsequent capabilities added by China Mobile, including real-time, interactive calling services, require network and device upgrades to support the IMS Data Channel, which means IMS combines data communications with voice.
China Mobile is cooperating with Huawei to leverage the technologies for some of the services. Specifically, the carrier uses the Single Voice Core solution for visualized voice calling. The capability allows individuals to display their avatars during a call and enterprises to show promotional images to customers, Gao said. Offerings such as visualized voice calling can be monetized, he added.
"Another example is real-time translation," he said. "If two parties on a call use different languages, the service can provide real-time translation. This exciting feature truly breaks down language barriers."
New Calling Challenges
While enthusiastic about New Calling's potential, Sun noted China Mobile has identified some challenges that it is looking to address. "New Calling-native devices require upgraded chips and software, which needs the support of the industry partners, chip vendors and OEMs," he said.
To reduce technical complexity and costs, China Mobile will provide a New Calling SDK (software development kit) to partners for devices. "We will strengthen our collaboration and promote a New Calling ecosystem," Sun said.
Another issue is that the proliferation of smart call applications can be taxing for networks. To tackle the issue, China Mobile plans to further simplify its network architecture and decouple basic call functions from intelligent application capabilities to support quick service rollouts and upgrades.
More Capabilities Coming
Huawei plans to work with operators on offerings that leverage the IMS Data Channel, such as remote vehicle loss assessment and remote home broadband maintenance, said Gao.
Huawei is also encouraging the construction and interconnection of VoLTE (Voice over LTE) networks to enable New Calling services, starting with offerings such as visualized voice calling and real-time translation. Then operators can evolve networks to natively support the data channel and use it for capabilities such as remote sharing and AR annotation, he said.
For its part, China Mobile is exploring new use cases for a commercial launch. "We expect that most of devices in the market will support 5G New Calling," Sun said. "We also expect building a thriving ecology of 5G New Calling, which attracting the participation of developers to develop creative calling applications in all fields."
This content is sponsored by Huawei.