T-Mobile to finally turn off 2G in 2024
T-Mobile recently disclosed that it will turn off its 2G GSM network on April 2, 2024. The move follows the operator's dismantling of its 3G networks, and Sprint's 3G and 4G networks, during 2022.
"Across the industry, wireless companies have retired older network technologies as part of an important progression to ensure all customers can enjoy a more advanced 4G and 5G network," T-Mobile explained on its website. "Moving customers who are on old networks onto modern, advanced high-speed networks means they will need to have phones and devices that can tap into the latest technologies."
T-Mobile's 2G shutdown will happen almost seven years after AT&T shut down its own 2G GSM network. AT&T discontinued service on its 2G network in 2017. According to AT&T's filings with the SEC around that time, it counted 4 million customers on its 2G network, the bulk of which were IoT devices.
To be clear, all of the nation's mobile network operators have been working to shift customers from older, legacy networking technologies and onto newer, more efficient standards including 4G and 5G.
For 2G specifically, T-Mobile's move to shutter its network is noteworthy considering the technology recently entered its fourth decade of service in some parts of the world. First launched in the early 1990s, a number of mobile network operators across the globe have moved to shutter their 3G networks before turning off 2G. That's partly because some feature phones and some Internet of things services still use 2G connections.
"2G is still useful because the FM modulation (like the stereo in the car) travels a long distance," analyst Joe Madden of Mobile Experts told Light Reading in 2021. "There are millions of IoT devices that use 2G (example: a coke machine in the basement of the college dorm) where no other signal can penetrate. 3G and LTE are not really a good substitute, although NB-IoT is now able to replace GSM with similar long-range characteristics."
For T-Mobile, the operator has gained plenty of experience recently in shuttering aging wireless networking technologies. T-Mobile dismantled Sprint's 3G CDMA network on March 31, 2022, and its 4G LTE network on June 30, 2022. The operator then shuttered its own 3G UMTS network on July 1, 2022.
Similarly, Verizon and AT&T also turned off their own 3G networks over the course of last year.
According to the financial analysts at MoffettNathanson, the 3G network shutdowns by Verizon, AT&T and T-Mobile affected a combined total of 2.3 million lines of service during 2022. However, it's unclear exactly how many of those might have been active or unused lines.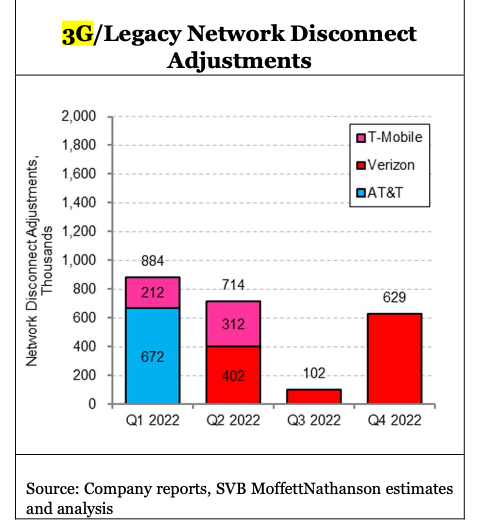 The MoffettNathanson analysts argued that the 3G shutdowns in 2022 had a significant effect on the US wireless industry in general – an effect that was difficult to determine because all the carriers recorded their 3G disconnections as "subscriber adjustments" rather than in their tally of gained and lost customers. They noted that, when adjusted for 3G subscriber dislocations, Verizon, T-Mobile and AT&T collectively recorded net customer additions that were down 50% in 2022 compared with 2021.
Related posts:

— Mike Dano, Editorial Director, 5G & Mobile Strategies, Light Reading | @mikeddano
Like what we have to say? Click here to sign up to our daily newsletter
One of America's most loved telecoms get-togethers, The BIG 5G Event, will be returning to Austin in 2023 to host 1,500+ telecom, cloud and technology professionals — and we want you to be a part of it!
For three days, you can meet and network with leaders from every part of the North American 5G ecosystem and hear from over 150 speakers on the hottest industry topics. To apply for your complimentary pass to the event, visit this link.
PARTNER PERSPECTIVES
- content from our sponsors