mmWave 5G in 2023: Fast, but still expensive and hard to find
Several new research reports help paint a clear picture of the current status of millimeter wave (mmWave) 5G in the US and globally. Broadly, the findings show that the technology supports speedy connections but remains relatively pricey and scarce.
First, a new report from network-monitoring company Ookla – which offers the popular Speedtest app – shows that mmWave connections continue to offer blazing-fast speeds when compared with other types of 5G signals.
"Our data shows that users on 5G mmWave achieved speeds that are 4.29 times faster than midband, 6.86 times faster than C-band, and a staggering 26.1 times faster than a lowband," Ookla's Sylwia Kechiche wrote on the firm's website, in assessing the performance of 5G in the US market.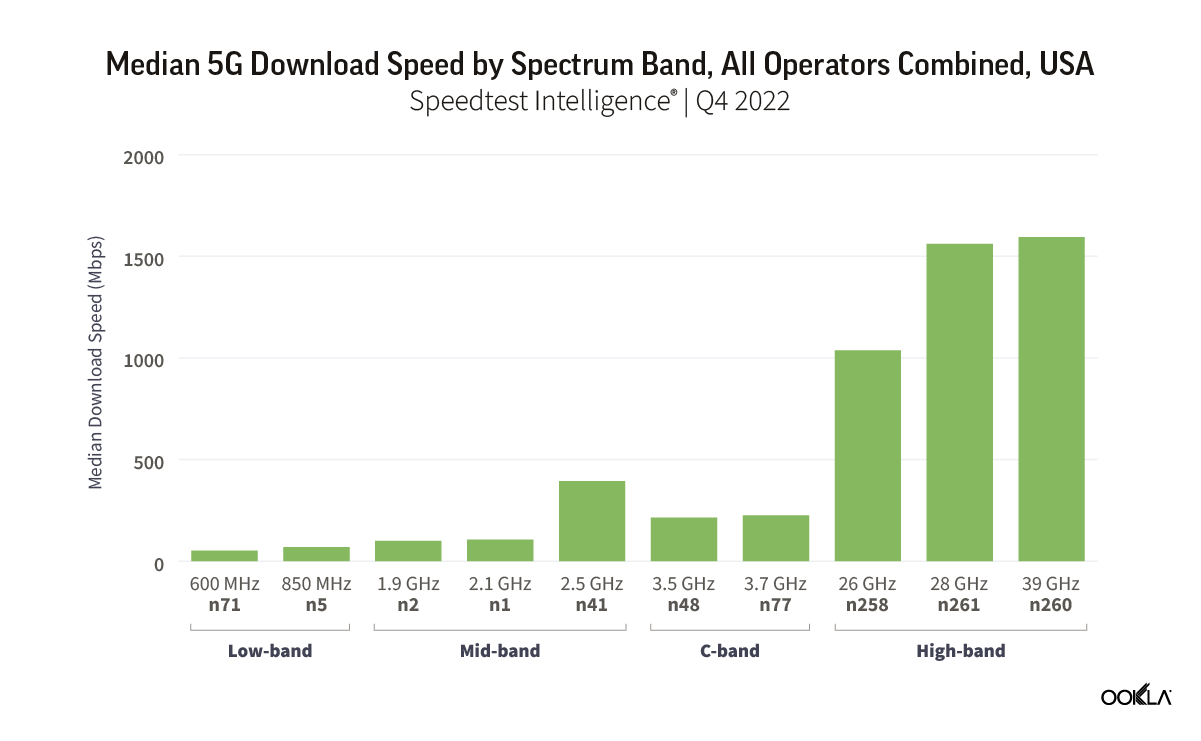 The findings are noteworthy considering US operators, particularly Verizon, pursued the mmWave flavor of 5G in the early days of the technology. mmWave spectrum bands generally sit above 20GHz – far above the spectrum bands traditionally used for cellular operations – and were considered mostly unusable for decades. But 5G technology promised to support high-speed mobile operations in the mmWave spectrum bands.
There's a catch, though. Transmissions in mmWave spectrum can't travel more than a few thousand feet, and often cannot penetrate glass or trees. Transmissions in traditional, lowband cellular spectrum bands, such as 800MHz or 1900MHz, can often travel miles and reach deep inside buildings. Indeed, Ookla's findings in 2021 showed that the average mobile user in the US connected to a mmWave 5G network less than 1% of the time.
Likely as a result, US operators in recent years have shifted their interest toward midband spectrum, including 2.5GHz and C-band. That spectrum covers wide geographic areas and offers speedy connections – albeit not as fast as mmWave.
"Ookla Q4 2022 data from the US shows mmWave is achieving mind blowing speeds – almost 1.6 Gbit/s median 5G download speed – 26 times faster than the median 5G speed on lowband, almost seven times faster than the C-band, and four times than midband," Ookla's Kechiche wrote.
The drawbacks
Despite the blazing fast speeds of mmWave, the technology remains on the periphery of the global wireless industry. As Kechiche noted, just two dozen countries have made licensed mmWave spectrum available for 5G. And just a handful of operators outside of the US have deployed 5G networks in the band.
As a result, most handset makers don't support mmWave in their devices. According to the Global mobile Suppliers Association (GSA), roughly 9% of all announced 5G devices include support for mmWave connections.
There's a clear reason for that: mmWave 5G components raise the cost of a phone. According to Counterpoint Research, the addition of mmWave raises the bill of materials (BOM) for an iPhone 14 Pro Max to $474, from $454 without it.
Similarly, the Google Pixel 6 is available for $599 in the US without mmWave or $699 with the technology.
A shifting landscape
Nonetheless, mmWave proponents continue to point to the benefits of the technology.
For example, Verizon has long been on the forefront of mmWave: After calling the technology "wireless fiber" in 2016, Verizon ushered in the first real phase of 5G with the launch of its mobile mmWave services in 2018. And, according to new data from the financial analysts at Cowen, that seems to have helped Verizon's perception among US consumers. The firm reported that 40% of survey respondents said Verizon has the best 5G network, ahead of T-Mobile's 34% and AT&T's 26%. Cowen's figures are based on a December survey of around 1,200 US shoppers.
Separately, mmWave vendors like Qualcomm continue to argue that the technology has its place. For example, it can be used in sports venues to handle massive demands for wireless data. Indeed, in one of its studies, Ookla reported that mmWave in a sports stadium resulted in "higher 5G capacity and lower latency."
And other mmWave uses appear to be on the horizon. For example, UScellular is using the technology for some of its fixed wireless access (FWA) services. And executives from T-Mobile – one of the world's leading FWA providers – have hinted that the operator might use mmWave connections to bolster its midband FWA offerings.
Related posts:

— Mike Dano, Editorial Director, 5G & Mobile Strategies, Light Reading | @mikeddano
Like what we have to say? Click here to sign up to our daily newsletter
One of America's most loved telecoms get-togethers, The BIG 5G Event, will be returning to Austin in 2023 to host 1,500+ telecom, cloud and technology professionals — and we want you to be a part of it!
For three days, you can meet and network with leaders from every part of the North American 5G ecosystem and hear from over 150 speakers on the hottest industry topics. To apply for your complimentary pass to the event, visit this link.
PARTNER PERSPECTIVES
- content from our sponsors