Energy efficiency in the cloud native 5G core
Environmentally sustainable, energy-efficient networks are of great importance. In a 5G network, the RAN consumes most of the power, but operators must nevertheless ensure that the core network and the underlying cloud infrastructure are also optimized.
A power efficient 5G core is important for obvious reasons – efficiency is good engineering, electrical power generation has, to varying degrees, a negative environmental impact, and electricity can be expensive, with future pricing currently hard to predict.
Power efficiency is also worthwhile for hard-headed commercial reasons. Most significantly, sustainability now has a greater weight in contract decisions by large companies and public sector organizations. To win their business, operators must show how they are working toward sustainability goals such as reductions in Scope 1 and Scope 2 emissions.
To investigate how operators are thinking about 5G core technology and services, Heavy Reading has published its new "5G Core Networks Operator Survey." To download a free copy of the analyst report, click here (registration required).
The survey presented several energy-saving options for the 5G core and asked operators what actions can most help them meet their environmental goals and reduce power consumption. Respondents were asked to select their top three initiatives from the list of options shown in the figure below. The 83 respondents selected an average of 2.6 answers each.
The top answer, with a 52% response, was "moving as many functions as possible to a common infrastructure platform." This could include major initiatives such as "tech clean-ups" to remove legacy power-hungry equipment – for example, removing 3G core functions altogether to focus on 4G/5G. Or it could mean consolidating core workloads from multiple disparate appliances into a common telco cloud platform or swapping core functions running on virtual machines with lightweight cloud native versions.
What changes will your organization make to its 5G core infrastructure to meet environmental goals and reduce power consumption? (Select top three)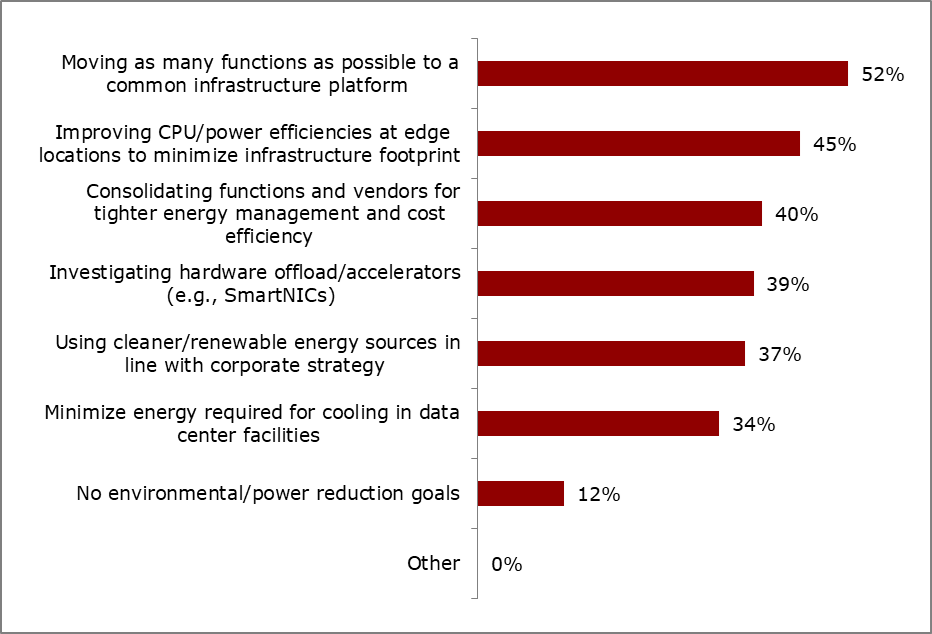 There are many additional ways to improve the power efficiency of the cloud platform. In fact, the distribution of responses across the options presented in the survey underlines that energy efficiency strategies will be multipronged.
"Improving CPU power efficiencies at edge locations to minimize infrastructure footprint" (45%) is a straightforward analysis. For an operator deploying multiple edge locations, it is simple math that each location must be as efficient as possible if its overall network power budget is to be met. The challenge at the edge, of course, is managing the infrastructure lifecycle and judging what generation of server to deploy and how much to overprovision to meet potential future needs.
It is also interesting to think about how "investigating hardware offload/accelerators" (39%) – a.k.a. data processing units (DPUs) or SmartNICs – can contribute to power savings. In principle, offloading packet processing to a dedicated DPU makes more efficient use of server CPU resources and therefore reduces power consumption. Hardware accelerators are attractive in the 5G core, but a separate question in the survey shows that although operators are positive on DPUs, the decision to deploy is not clear-cut. The case is strongest for high throughput services such as fixed wireless access.
The 40% score for "consolidating functions and vendors for tighter energy management" is interesting. Disaggregation and multi-vendor, by nature, introduce some inefficiencies, so thinking about how to address this is important. Right now, it does not look as if telcos will go as far as to re-embrace the vertical integration of hardware and software in the 5G core. Another interpretation of this result could be in areas such as the N6-LAN, where consolidating functions – for example, NAT, firewall, load balancing and traffic optimization – from several vendors into one lead supplier could create a more energy efficient system.
Consolidating core workloads into a common cloud platform, according to the survey, is the most consequential move operators can make to reduce energy consumption in the 5G mobile core. The overall spread in the responses, however, indicates operators will take a multipronged approach to their power reduction strategy.
To download a free copy of the "Heavy Reading 5G Core Networks Operator Survey" analyst report, click here.
— Gabriel Brown, Senior Principal Analyst – Mobile Networks & 5G, Heavy Reading
This blog is sponsored by F5.
Like what we have to say? Click here to sign up to our daily newsletter
One of America's most loved telecoms get-togethers, The BIG 5G Event, will be returning to Austin in 2023 to host 1,500+ telecom, cloud and technology professionals — and we want you to be a part of it!
For three days, you can meet and network with leaders from every part of the North American 5G ecosystem and hear from over 150 speakers on the hottest industry topics. To apply for your complimentary pass to the event, visit this link.