5G experience: US & Asia telcos lead, Europe lags
Network performance analysts Opensignal have come up with a fresh metric to track 5G network quality.
They're now measuring coverage experience, which they believe more accurately reflects users' expectations and experience of network coverage.
The new global study throws up some revealing data points on 5G competition between markets and operators.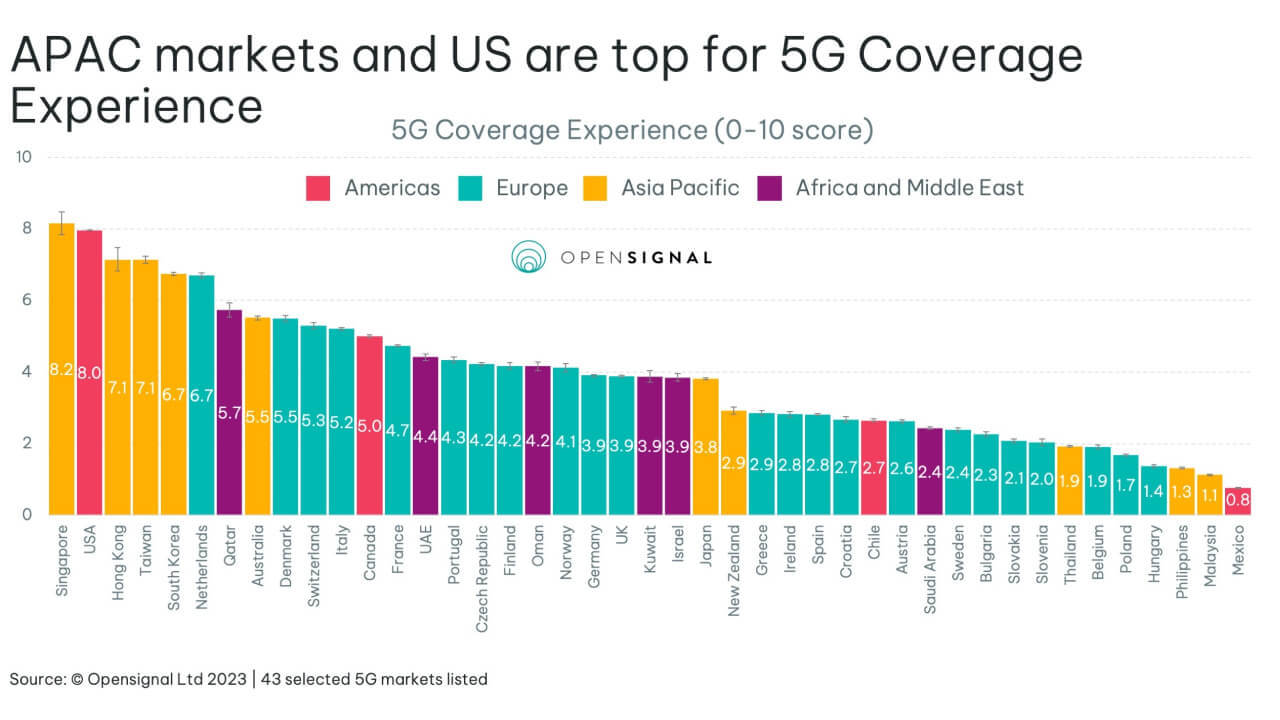 We see that some telcos have opened up a massive lead over their competitors. Australia's Telstra rates 5.2 points out of 10, almost double both of its rivals. In Japan, NTT Docomo scores 3.3, while newcomer Rakuten (which has just signed a 5G roaming agreement with KDDI) is just 0.4.
Some European telcos are no doubt congratulating themselves for slow-walking their 5G buildouts. Even so, it's startling to see some of the numbers. Belgium scores just 1.9, while Sweden, Austria, Spain, Greece and Ireland all tally below 3 points.
At the other end of the scale Singapore, which rolled out 5G two years after the US, is now on par in offering the world's best experience – both countries rate a 10. Hong Kong, Taiwan, South Korea and the Netherlands round out the leaderboard.
India and China data
The 4G survey also delivers some surprises.
More than a dozen markets have close to a perfect score in 4G. That includes not just the usual suspects like Japan and the Netherlands, but India as well. Other Asian countries including Bangladesh, Cambodia, and the Philippines also scored over 9 points.
The one shortcoming of the 5G survey is the lack of data from India and China, the Asian giants who by their size are among the biggest drivers of global 5G.
India's absence is understandable as it's still a nascent 5G market. In the case of China, where not even domestic organizations are allowed to track network performance, it's hardly a surprise that foreign research efforts are blocked as well.
Still, Chinese telcos and the Ministry for Industry and IT are barely any more informative. Their favored metric is basestation population, which reveals nothing about user or geographic reach.
Right now China's basestation total, which is faithfully tallied up monthly, is 2.38 million – supposedly representing more than 60% of the global number. China Mobile and the China Telecom-Unicom partnership account for roughly half each.
The fact that some 600 million customers have signed up for China 5G may suggest they are happy enough with their user experience. On the other hand, that another 600 million have become '5G customers' while remaining on the 4G network may indicate that they think 5G is simply better value.
Related posts:
— Robert Clark, contributing editor, special to Light Reading
Like what we have to say? Click here to sign up to our daily newsletter
One of America's most loved telecoms get-togethers, The BIG 5G Event, will be returning to Austin in 2023 to host 1,500+ telecom, cloud and technology professionals — and we want you to be a part of it!
For three days, you can meet and network with leaders from every part of the North American 5G ecosystem and hear from over 150 speakers on the hottest industry topics. To apply for your complimentary pass to the event, visit this link.
PARTNER PERSPECTIVES
- content from our sponsors