10-Gig Transceiver Market Set to Soar
Optical transceivers that support 10-Gbit/s rates are set for takeoff. Data from
Ignis Optics
, a transceiver vendor, which claims to base its numbers on third-party market research sources, predicts that worldwide unit shipments of chips that transmit data, voice, and video through network equipment at 10 Gbit/s will increase nearly
fourfold
between now and 2005: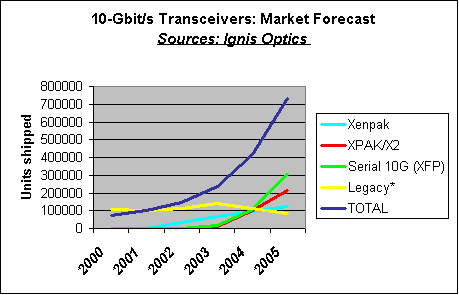 Included in this growth curve will be a variety of different kinds of 10-Gbit/s transceivers, including those made to fit a range of emerging specs set by groups of vendors collectively organized in support of various multisource agreements (MSAs).
Leading MSAs for 10-Gbit/s transceivers include
XPAK Multi-Source Agreement Group
and
X2
, a competing standard, both of which are newer, leaner form factors based on the
Xenpak
standard, a popular design for 10-Gbit/s optical transceiver chips (see
Is Xenpak Past It?
,
XPAK Group Unveils Specs
, and
X2 MSA Launched
). In general, sources think XPAK and X2 will grow faster than Xenpak implementations. (For more on MSAs, see
Light Reading
's report on
10-Gig Ethernet Transponders
.)
Another spec, sponsored by the
10-Gigabit Small Form-factor Pluggable (XFP) Module Group
, is also gaining a toehold. Indeed, some think XFP has the potential to eventually outstrip other techniques in popularity, as shown in the chart above. That's because XFP is a serial 10-Gbit/s solution that requires a physical-layer chip (Ethernet MAC or Sonet framer) to be placed on the line card (instead of being inside the module, as with Xenpak and XPAK).
Placing the chip outside the module means there's less to put into the module, so size can be reduced. Also, XFP is protocol-independent, which equates to a larger potential market and the promise of being able to manufacture it cheaply in volume.
Still, as indicated in the chart, XFP implementations are going to take a bit longer to reach volume shipments.
All these new MSAs have pros and cons, but all have one unifying factor: the ability to provide transceivers that "snap" onto device makers' interface boards without requiring "pigtails," or trailing fibers that need to be manually spliced to fit onto a board.
Pigtail-equipped transponders with integral ICs (integrated circuits) and so-called "butterfly" packages, comprising transponders without ICs, will continue to ship in the near term, experts say. But their day is past, and growth will start to dwindle by next year.
Growth in 10-Gbit/s transceivers will initially be driven by enterprise, not carrier, demand. Businesses are now looking for faster links to desktops, storage devices, servers, and other data-center kit. And since the distance variables are easier to cope with in short-reach enterprise kit, products are initially aimed at that segment.
Enterprise demand for 10-Gbit/s transceivers is evident in a clamor for transceivers used in SAN (storage area network) equipment. "10-Gig Fibre Channel is coming on really strong," says Leo Wong, director of marketing at
BitBlitz Communications Inc.
He says makers of SAN components and equipment want 10-Gbit/s Fibre Channel even more than Ethernet connections right now.
But vendors say
Ethernet
is in demand too. In an announcement earlier this week,
Intel Corp.
(Nasdaq: INTC) earmarked its first 10-Gbit/s optical Ethernet transceiver for interdevice links in data centers (see
Can Intel Make Transceiver Peace?
).
Others aren't far behind. This past March,
Picolight Inc.
demonstrated a 1310nm singlemode fiber transceiver at the OFC Conference in Anaheim, Calif. That vendor says 10-Gbit/s transceivers will open the doors to faster 10-Gbit/s Ethernet services from carriers, but only after enterprise and metro access equipment is upgraded to faster connectivity.
Picolight sees a progression in which backplane bandwidths start to climb in enterprise gear such as servers, storage devices, and desktop computers. That's happening right now. Over the next couple of years, as enterprise gear reaches 10-Gbit/s backplane capacity at distances up to 1 kilometer, users will demand faster access to metro carrier services. At that point, metro access equipment will start delivering 10 Gbit/s at distances up to 10km. Over a period of several years, long-haul and submarine optical transport gear will follow suit, driven by the metro bottleneck.
— Mary Jander, Senior Editor,
Light Reading
http://www.lightreading.com
PARTNER PERSPECTIVES
- content from our sponsors