Experience Driven CRM – Building Architectures to Provide a Differentiating Customer Experience


Date:

Dec 10, 2013 - 09:00:00 EST
View webinar
At a time when competition is intensifying in most telecommunications markets and operators are searching for ways to differentiate other than on price, poor customer service should not be an operator's principal differentiation factor. From an IT perspective this requires a new approach - whereby all customer interactions are performed in the context of the customer's end-to-end experience.
Register for "Experience Driven CRM" to learn how operators must exploit all the customer-experience data assets within their network – OSS, BSS and CRM – and make it seamlessly available in an intuitive IT environment. This interactive discussion will explore how you can:
Reduce the risk of creating a telecoms specific CRM environment
Drive operational efficiency with a CRM environment tailored to specific telecoms business processes
Transform customer experience with proactive customer care and marketing that leverages all relevant customer insights from the network, OSS, BSS and CRM domains, real-time network insights
This webinar will provide valuable insights on how customer relationship management can address these challenges that telecoms operators face today, both from a business and IT perspective.
Register Now!
Home is Where the Network Is


Date:

Dec 10, 2013 - 12:00:00 EST
View webinar
Now that cable operators are fully embracing IP video, the big question is how they will make the transition to full IP delivery of their video services over the next few years. Perhaps most importantly, MSOs must figure out how to carry out this tricky transition without overwhelming their already strained HFC networks.

In this Webinar, you will learn:
When cable operators will start running IP video simulcasts
How much extra bandwidth these IP video simulcasts will consume
How MSOs intend to leverage the cloud to deliver more IP-enabled video services
What new tools cable operators will need to carry out the transition
What new devices and/or software will be needed in the home
How cable operators plan to distribute IP video signals around the home
We will tackle these "smaller" questions and numerous others because they will help determine the answer to the big question. As always, the devil is in the details. Tune in on Dec. 10th to find out more.
The Why and How of Transport SDN


Date:

Dec 11, 2013 - 12:00:00 EST
View webinar
SDN and NFV concepts promise to dramatically impact the kinds of services that providers can offer and to significantly change the way those services are delivered. While most of the focus has been on L3 and higher devices – because all of these services must be carried by a transport network – transport networks will play a critical role in any successful implementation of SDN. Significantly, contending with the analog domain means that transport SDN must evolve differently than higher layer SDN. This webinar will provide a discussion on what Transport SDN is, what benefits it can provide, and which features and networking capabilities are necessary to implement it effectively.
The Policy and Charging Control Ecosystem – An Open Approach to Driving Innovation


Date:

Dec 11, 2013 - 12:00:00 EST
View webinar
LTE's center-stage arrival and the rapid evolution of heterogeneous networks bring a new era of customer expectations for personal and enterprise mobility. Converting these expectations into profitable relationships is precisely what the policy and charging control (PCC) functions enable.
Yet a lack of cohesion among the PCC players has left the PCC potential untapped. To address this gap and help service providers roll out innovative services with integrated PCC functionality quickly, Amdocs has created a PCC Ecosystem partner program.
Join this webinar to learn how you can:
Innovate with the industry leaders in policy, online charging, DPI, optimization and real-time notifications
Create new monetization opportunities across the network control and data plane
Differentiate services in real-time based on subscriptions and ad hoc choices
Develop and prototype new data monetization offerings quickly
Reduce the risk of launching new services by leveraging standards-based integration
Leverage the extensive IOT, testing and integration work of industry leaders
Amdocs PCC Ecosystem partner program will give service providers a logical starting point for innovating and incubating new service ideas rapidly - leveraging network assets to deliver the kinds of personalized services that their customers expect.
How to Solve Small Cell Backhaul and Power Challenges


Date:

Dec 12, 2013 - 10:30:00 EST
View webinar
Mobile network operators are universally turning to small cells to reuse spectrum, improve quality of service, and enhance network coverage. But getting enough backhaul bandwidth where it is needed is not always easy or affordable, and finding a local source of power can be difficult. This webinar will showcase how backhaul networks can be built more efficiently using the installed base of copper twisted pair cables in order to reach the many diverse small cell sites in operators' networks, and will explain the benefits of a solution comprised of EFM over copper backhaul, remote power, and a compact enclosure.
Attend this webinar to learn how to:
Get the backhaul bandwidth you need to hard-to-reach small cell sites more quickly and cost effectively
Select the right mix of fiber, copper and microwave backhaul to optimize the network build
Solve the challenge of powering cell sites where no power is readily or easily available
Network operators know they need to deploy small cells but may be stymied or slowed in their efforts by backhaul and power concerns. Register for this webinar to clear up many of those concerns and receive specific information on alternatives for small cell backhaul and power.
Guarding Your Network Against Security Breaches and Botnets


Date:

Dec 12, 2013 - 11:00:00 EST
View webinar
Compromised hosts and accounts expose Internet Service Provider (ISP) networks to security breaches and botnet attacks. During this webinar, we will discuss inbound and outbound policy strategies for broadband and email to identify and mitigate compromised hosts, compromised accounts and security breaches, which will allow you to safeguard your network ensuring your subscribers' data is safe and secure.
Attend this webinar to learn how to:
Identify compromised accounts on your network
Explore proven strategies to identify and mitigate botnet attacks
Safeguard your network and subscribers from inbound security breaches
Register for this webinar to learn how to safeguard your network and customers by implementing proven inbound and outbound policy strategies for broadband and email.
Carrier-Grade Virtualization: Preparing the Telco Infrastructure for NFV


Date:

Dec 17, 2013 - 12:00:00 EST
View webinar
This webinar will look at the requirements for a virtualization platform that will support the needs of Network Functions Virtualization (NFV) and, specifically, the role of the virtualization layer within the NFV Infrastructure. It will discuss the drivers for virtualization and examine the specific capabilities needed in a carrier-grade virtualization platform to support network functions, as opposed to virtualized enterprise applications. It will examine the relationship between the virtualization platform and virtualized connectivity and present virtualization use cases that demonstrate the power of the NFV approach.

Upcoming Live Events!!

June 17-18, 2014, Chicago,IL

September 9-11, 2014, Sands Expo Center, Las Vegas, NV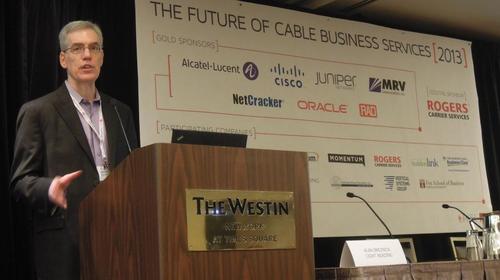 Pics From Future of Cable Business Services

More Slideshows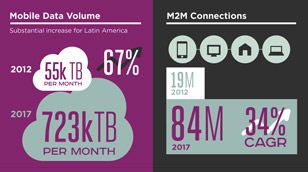 M2M in Action
Click Here