Cracking the Code of SDN




Date:

9/27/2018 10:00 a.m New York / 3:00 p.m London
Sponsors: Sterlite Technologies
More information and registration

Software is indeed eating the world and changing industries forever… in the network world now, if it's not software defined, it's legacy. Though widely accepted to be an industry revolution and not just the latest marketing buzzword, adoption of software and network virtualization remains lower than expected. Why are CSPs struggling to make the shift to virtualized networks? Listen to Sterlite Tech's CEO (Software), Anshoo Gaur, as he delves deep into the reasons for the delayed adoption of SDN & NFV and articulates how CSPs can overcome these challenges going forward. This webinar will talk about:
Demystifying SDN & NFV
Where are we?
What's taking so long?
Going forward… What could CSPs do?
Everything You Always Wanted to Know about Remote PHY but Were Afraid to Ask




Date:

9/27/2018 11:00 a.m. New York / 4:00 p.m London
Sponsors: VIAVI Solutions
More information and registration

With Remote PHY all over the news, Comcast and most other cable operators are now planning to test and/or deploy the new access network platform. But, beyond the MSOs' various R-PHY working teams, there is still a lot of confusion and uncertainty about the technology. In this first part of a multi-webinar series, we will explain the business drivers behind R-PHY, how it will impact the access network in the short term, and what the evolving network will look like in the long term. We will also present a recommended structure for R-PHY testing over the entire lifecycle. In the next two webinars, we will dive deeper into such specific areas as headend/hub construction, fiber deployment, R-PHY turn-up & cutover, and ongoing maintenance of Distributed Access Architectures.
How MU-MIMO Can Supercharge WiFi




Date:

10/2/2018 12:00 pm New York / 4:00 pm London
Sponsors: Quantenna
More information and registration

Multiple-input, multiple-output (MIMO) technology offers many benefits for wireless communications by leveraging multiple antennas at both the source (transmitter) and destination (receiver). With the use of MIMO, multiple streams of data can be delivered simultaneously and transmit-and-receive diversity can be fostered.

Among the most powerful improvements enabled by MIMO is the ability to use precoding to "steer" the transmitted signals. One implementation of precoding, Beamforming, focuses the signal, leading to greater signal strength at the receiver. In another implementation of precoding, known as MU-MIMO (Multi-User MIMO), a single transmitter can send multiple data streams to multiple receivers without mutual interference between the different streams. In this case, precoding achieves the desired interference cancellation by steering parts of the signal away from an intended location.

In this webinar, we will discuss the different uses of precoding and highlight the importance of high-quality channel feedback to enable precoding. We will also present use cases in which maximum user performance can only be achieved by deploying MU-MIMO.
Automated Provisioning to Accelerate Service Creation and Drive Revenue Growth




Date:

10/3/2018 11:00 a.m. New York / 4:00 p.m. London
Sponsors: Affirmed Networks
More information and registration

The key to revenue growth for CSPs is the ability to rapidly create and deliver new services that differentiate and add business value. Introducing a new service has traditionally been a lengthy, manual process that was costly and error prone, requiring complex integrations that spanned multivendor environments.

Fortunately, advances in automated service provisioning are addressing many of these challenges, allowing service providers to deliver new services faster and more cost effectively. Key enablers include open API's for easy integration with OSS/BSS systems and network devices, dry runs and automated health checks for service assurance and a UI based service creation platform that requires no programming or scripting.

This webinar, led by Heavy Reading analyst James Crawshaw, will explore how automated service provisioning is being used to accelerate the service creation, provisioning and delivery process, thereby enabling more innovation. Offering the perspectives of Affirmed Networks, a leader in NFV, the webinar will provide real-world examples of how operators are using automated provisioning platforms to drive revenue growth. There will also be a live demo showing:
How to use a single platform for defining service logic
How to avoid vendor lock-in with open APIs, north- and south-bound
How to reduce human error related to new service creation with robust service assurance
How to remove the need for costly custom development through service abstraction
The Services Future of Firewalls




Date:

10/16/2018 9:00 a.m New York / 2:00 p.m London
Sponsors: Clavister
More information and registration

Many communications service providers are now well into their network functions virtualization (NFV) driven cloudification journey, which not only virtualizes and moves services to the cloud but also enables moving services and underlying compute platforms to the edge of the network. And this push to the edge will only intensify as 5G and related complementary technologies such as MEC are deployed in the next 24 months.

From a services perspective, both these technologies also are considered services-based in that they are focused on exposing service instances at the edge on an unprecedented level. As a result, security strategies and products such as firewalls must also evolve to meet these new services requirements. This webinar will consider the impact on firewalls, specifically how the edge and this services approach will redefine not only the role but also the architecture of next-gen firewalls (NGFWs).

Topics covered in this webinar will include:
How the 5G Service Based Architecture (SBA) core network and associated capabilities such as 5G slicing will drive new security enforcement firewall functionality
The security firewall requirements associated with managing the 5G cloud-distributed new radio (NR) access network
The implication of these technologies on existing cloud-based Firewall as a Service (FWaaS) deployments
Clavister's product strategy for dealing with these new service-driven firewall requirements
How to Differentiate & Accelerate Your Managed SD-WAN & Security Offerings




Date:

10/16/2018 10:00 a.m New York / 3:00 p.m London
Sponsors: Amdocs
More information and registration

As demand for SD-WAN gathers pace, service providers are racing to implement this new technology to maintain and grow revenue streams from their enterprise customers. To differentiate themselves and enhance their competitive positioning, service providers need to offer a variety of SD-WAN based products combined with specialized security solutions and an ever-expanding portfolio of value-added services. To deliver these capabilities efficiently and scalably requires the latest in network functions virtualization technology. While deploying all these new technologies it is critical to make sure you are still able to meet your ongoing business, performance and cost requirements.

In this webinar we will:
Examine the increasing importance of SD-WAN in enterprise telecoms.
Discuss the upside and challenges facing service providers when delivering managed SD-WAN and value-added services.
Explore the critical role of orchestration in managing a portfolio of SD-WAN and security solutions.

Discuss how pre-integrated solutions can simplify implementation, reduce time to market and enable service providers to rapidly monetize SD-WAN, security and value-added services.
Your 5G Network needs 5G Transport




Date:

10/23/2018 10:00 a.m. New York / 3:00 p.m. London
Sponsors: Ericsson
More information and registration

5G is a game changer. The move to 5G will result in a set of diverse transport requirements driven by new use cases and the expectation of high-capacity, low-latency, reliable and secure communications. As the traditional distributed Radio Access Network (RAN) site disaggregates, the glue holding the 5G RAN together is the underlying transport network. A number of architectures are proposed, including distributed RAN (D-RAN), centralized RAN (C-RAN), virtualized RAN (V-RAN) and elastic RAN (E-RAN). On this Light Reading webinar, we will address the following:
How do these different 5G architectures impact the underlying transport network?
How do new 5G requirements affect the transport network, including new protocols, synchronization, large buffer size, automation and others?
How can operators complement fiber with high-capacity microwave for both urban and rural applications?
What can operators do today to address these changing requirements on transport and win the 5G race?
Tackling New Assurance, Test Challenges In 5G




Date:

10/24/2018 12:00 p.m. New York / 5:00 p.m. London
Sponsors: VIAVI Solutions; Spirent
More information and registration

5G will transform our world. But as we rush to make 5G possible, everything will change – new devices, antennas, chipsets, frequencies, architectures, KPIs — leading to unprecedented complexity. When complexity collides with urgency, test and assurance is critical. Join us in this co-sponsored webinar with Spirent and VIAVI. VIAVI will discuss the fact that 5G will be more about business outcomes than technical architectures, opening up new revenue streams for operators. To reach that point, 5G will follow a path of three phases: 1) Technology verification and validation; 2) Deploy, activate and scale; and 3) Assure, optimize and monetize. Then learn from Spirent how new test methodologies and harmonizing test and service assurance across the DevOps lifecycle help assure the communications industry fulfills its promise of quickly and safely launching 5G to deliver new revenues, savings and experiences to its customers.
DAA - Headend Considerations Before the First Remote Unit is Turned Up




Date:

11/27/2018 11:00 a.m. New York / 4:00 p.m London
Sponsors: VIAVI Solutions
More information and registration

There has been much discussion about the turn-up process for the actual distributed access nodes and what can go wrong at this step. But what has been conspicuously absent is dialogue about the preparation required in the headend and transport network. Much of the complexity (and challenges) in DAA deployments come from re-architecting the headend/hub and transport network before the first field DAA unit is ever turned up. The challenges in these areas are both technical and organizational – it is not always well thought out who owns the issues with the new interfaces that Distributed Access Architecture brings. In this session, we will go over a few architecture options in play today and focus on the crucial fiber and transport areas, including fiber characterization and testing, Ethernet testing (including PTP timing) and recommended service testing.
Crossing The R-PHY Finish Line – RPU Installation, Cutover and Ongoing Maintenance 




Date:

1/23/2019 11:00 a.m. New York / 4:00 p.m London
Sponsors: VIAVI Solutions
More information and registration

In the first two installments of this series, we covered R-PHY basics and details about the largely headend-focused Ethernet, Fiber and Transport test processes. Now, in this edition, we will focus on the actual field install/cutover and maintenance aspects that follow. We will discuss Fiber, Ethernet, RF and service test considerations for flawless turn-ups, as well as strategies for retaining critical test and measurement capabilities and standardized processes.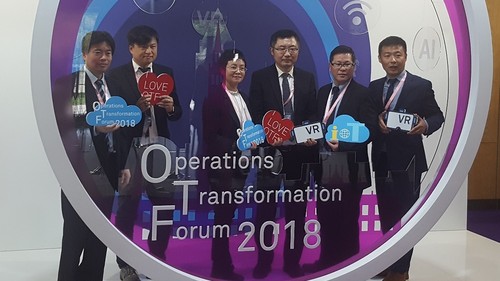 The Many Faces of Digital Transformation

More Slideshows