Cox Brings OTT-Like Smarts to the Set-Top
Cox Communications Inc. has revved up a recommendation engine from ThinkAnalytics Ltd. that brings the operator's premium-level video subscription service the kind of smarts that are typically found in more advanced over-the-top (OTT) platforms.
But rather than pitching recommendations for everyone in a household, the latest upgrade for Cox's tru2way-based Trio guide lets customers receive unique, personal recommendations for up to eight users in a given household. The update lets users "like," "dislike" or "suspend" the recommendations they receive.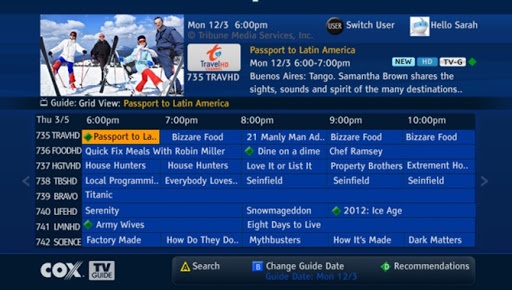 ThinkAnalytics's system generates recommendations and unique preference profiles by mining metadata and tracking usage patterns, taking a few steps beyond the relatively light-touch collaborative filtering techniques used in recommendation engines from OTT suppliers such as Netflix Inc.. ThinkAnalytics's engine isn't confined to the set-top box; it can also be made to run on tablets, smartphones and PCs. (See Cox TV App Expands to 56 Channels.)
Cox introduced the free Trio upgrade in select markets last month and expects to have it deployed across its footprint by the end of the month. The latest round of updates also let customers pause live television from any TV set that's hooked into the whole-home DVR network.
Cox launched its Advanced TV Plus package in mid-2010. The premium video platform runs on a whole-home DVR platform from Cisco Systems Inc. that's packed with about three times the storage capacity of Cox's standard DVR. It's also outfitted with the tru2way-based Trio guide, which was developed by Cox and NDS (now part of Cisco). (See Cox Guides Tru2way Forward and Cisco Bets $5B More on Video With NDS.)
Why this matters
Cox claims that it's the first U.S. multichannel video operator to offer individualized video recommendations on the television, giving it a capability that consumers are used to finding in increasingly popular OTT video services. The MSO hopes the new recommendations engine will help customers find what they like amid a growing menu of choices, but they also give Cox a new tool to help it retain and add customers to its premium-level video service at a time when most U.S. cable operators are still losing pay-TV customers.
The deployment also marks the first announced U.S. pay-TV win for ThinkAnalytics, a Scotland-based firm that's been on something of a hot streak. Last month, the company said it had expanded its customer base by 75 percent over the last six months after signing on 15 new operator customers. Some of its major customers include BSkyB Ltd., Virgin Media Inc., Telenet and Unitymedia GmbH (now part of Liberty Global Inc.) (See ThinkAnalytics Touts Video Wins.)
For more

— Jeff Baumgartner, Site Editor, Light Reading Cable