Sprint Cracks 1M LTE Devices Sold
Sprint Nextel Corp. has already cracked the 1 million mark for Long Term Evolution (LTE) devices sold, even as the Network Vision operator only covers 17 markets with the 4G network.
Its current LTE device lineup include the smartphones and mobile broadband device pictured below. Importantly, however, the 1 million count does not include the iPhone 5, so Sprint achieved the milestone without Apple Inc.'s help.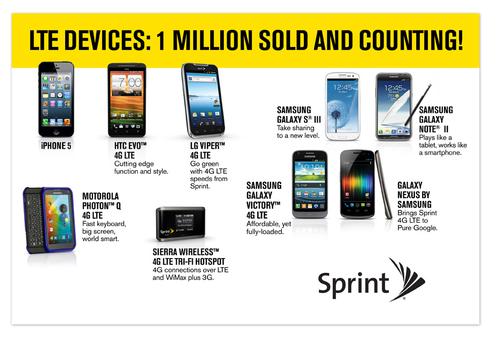 Why this matters
Sprint, which plans to cover 100 markets with LTE by the end of the year, should be cheering this milestone. And its growth will only pick up when the iPhone 5 with unlimited data launches on Friday. It is, however, all relative when you consider that Verizon Wireless sold 2.5 million LTE Android smartphones in the second quarter alone. Sprint would probably prefer comparing itself to T-Mobile USA, which has sold zero LTE devices so far. (See Verizon CFO Is a Tease on iPhone Timing.)
For more

— Sarah Reedy, Senior Reporter, Light Reading Mobile