Big Switch Girds for SDN Battle
In coming out with its first commercial product, Big Switch Networks seems ready to define some battle lines in software-defined networking (SDN).
As expected, the company is promoting a network architecture that uses OpenFlow to program Ethernet switches. As has been fashionable in SDN circles lately, Big Switch is also espousing the idea of a hybrid network -- one where OpenFlow-enabled gear is installed next to traditional routers and switches.
That's not quite the same as the overlay model proposed by Nicira Networks Inc. -- now owned by VMware Inc. -- and Cisco Systems Inc.. Those companies talk about using APIs to create tunnels for certain types of traffic, whereas Big Switch would use OpenFlow to reprogram the forwarding tables of switches.
The other way has the backing of two large companies. But Big Switch, in making its first commercial-products announcement on Tuesday, is bringing in more than 25 partners, including five major switch vendors.
"They're very far along. We're really impressed by them," says Eve Griliches, an analyst with ACG Research.
Opening up
Big Switch calls its vision of the network Open SDN, and it's based on a familiar three-layer setup proselytized by the Open Networking Foundation. Big Switch uses its controller to talk "south" to network infrastructure (Ethernet switches, primarily) and, separately to receive commands from cloud orchestration tools via "northbound" APIs.
The controller could use any protocol to talk southbound, in theory, but OpenFlow is the one that's in the market now, and that's where Big Switch is putting its efforts.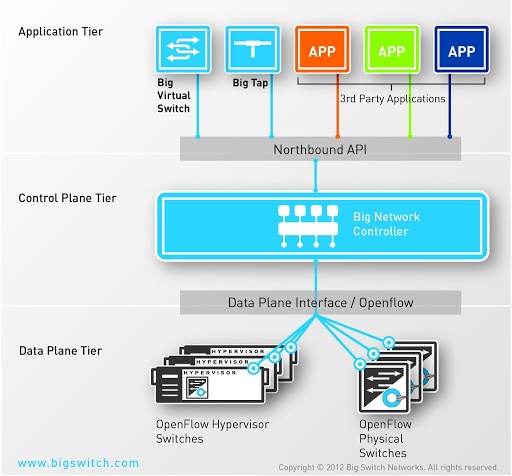 One crucial element of Big Switch's plan is the use of open interfaces in the north and south directions. Nicira supports open interfaces northbound but doesn't have as universal an approach on the southbound side.
The openness is what's allowed nearly all the major switch vendors to team up with Big Switch. Namely, they can create interfaces so Big Switch can talk to switches that don't support OpenFlow. At the last two Interop shows, held in September and May, vendors seemed to be climbing over each other to declare interoperability with Big Switch.
That sets up a pretty big distinction. "Nicira only works southbound with their own virtual switch," Griliches says. "Big Switch operates with any OpenFlow-enabled physical or virtual switches in the network."
Service providers would prefer to see the northbound and southbound interfaces be open, Griliches says. That's because a groundswell of applications is expected to emerge now that SDN has become a hot and venture-fundable area, and no carrier wants to suddenly find out its applications don't work on a particular vendor's gear.
Tuesday's announcement lists five of the biggest switch vendors among Big Switch's partners: Arista Networks Inc., Brocade Communications Systems Inc., Dell Inc., Extreme Networks Inc. and Juniper Networks Inc..
As for the companies not included -- yeah, Cisco is on that list. "As of right now, we are not working with them," says Jason Matlof, Big Switch's vice president of marketing.
Nuts and bolts
The central piece being announced Tuesday is the Big Network Controller, Big Switch's OpenFlow controller. Big Switch already made the heart of the controller, Floodlight, available via open source. For its production release, the Big Network Controller adds some heavy-duty enterprise features, such as support for high-availability clusters, or other features tied to performance at high scale.
The latter point is important, because while Big Switch is announcing general availability of its products Tuesday, it's been running them in production networks -- the types owned by financial firms and content providers -- for some time, Griliches says. "If you've got guys who are already using it in production networks where their traffic is equivalent to Tier 1s, I don't think you have to worry about scalability," she says.
Big Switch is also announcing two applications of its own: Big Virtual Switch, which automatically provisions virtual machines into servers, and Big Tap, a network monitoring aid that replicates data information to promulgate among several monitoring tools.
For more
— Craig Matsumoto, Managing Editor, Light Reading