Verizon Downloads 'Starz Play' Deal
A telco, not a cable operator, has become the first to pull the trigger on Starz Entertainment LLC's new premium IP video service -- and it's a doozy: Verizon Communications Inc..
Under a deal that ties into a larger, multi-year carriage arrangement, Verizon will market the subscription-based Starz Play service to its 8.5 million broadband customers.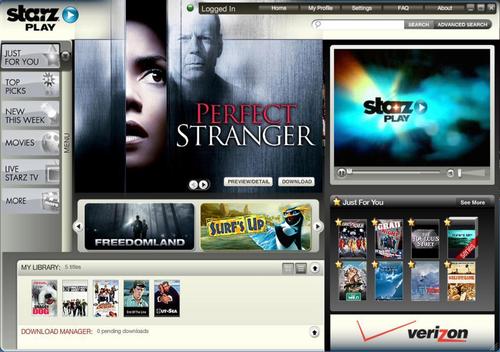 According to a Website dedicated to the offer, Verizon is selling Starz Play for $5.99 per month, providing unlimited access to a library of about 2,500 movies and other video titles, including Ratatouille, Spider-Man 3, and Pirates of the Caribbean: At World's End. Later this year, Starz Play will offer titles such as Superbad, Enchanted, and National Treasure: Book of Secrets. The Starz Play subscription also includes access to a live stream of the linear Starz channel and allows users to share downloaded titles on up to three authorized devices.
Consumers can sign up for Starz Play through Verizon but access it from anywhere in the United States, presumably via high-speed broadband lines run by cable operators and other broadband service providers that compete with Verizon.
"You don't have to reside within Verizon service territory to sign up for this," a Verizon spokeswoman says. All customers need is a credit card. However, existing customers will be able to bundle the Starz Play service on their Verizon bill.
Verizon is selling Starz Play as an add-on initially, though it's possible it could subsidize it and tie it in with high-speed service bundles. Verizon and Starz did not detail how they are dividing the monthly $5.99 subscription fee. The telco was not immediately available for further comment mid-day Tuesday.
Starz Play is a subset of Starz Entertainment's direct-to-consumer Vongo video service, which officially got off the ground in January 2006 and today sells for $9.99 per month. Although Starz Play does offer subscription movie downloads and access to the Starz channel, it does not offer the 200 pay-per-view titles that Vongo offers. Starz has not released any subscriber numbers for the Vongo service.
Among premium video services, Home Box Office Inc. and Showtime Networks Inc. also have Internet-based products in the works that are designed to tie in with their cable and telco affiliates.
Earlier this year, Starz officials detailed some plans for the "Play" offering, noting that it was finalizing contracts with several large operators. Robert Greene, the EVP of advanced services for Starz, suggested that his company could have multiple deals to announce this year. (See Starz Shops IPTV Service.)
As part of the broader deal announced Monday, Verizon's FiOS TV platform has secured carriage of 16 linear networks (including hi-def feeds) from the Starz, Encore, and MoviePlex trio, for the telco's FiOS TV service. The deal also covers associated subscription-VOD fare, including HD-VOD titles.
– Jeff Baumgartner, Site Editor, Cable Digital News