TiVo Buys OTT Video Search Firm
TiVo Inc. has acquired Zinc.TV, a company that uses metadata to locate and curate video from more than 500 Web-based sources, Light Reading Cable has learned.
TiVo has not announced the acquisition, but a spokesman confirmed that it happened "some time ago." The spokesman didn't say when the deal went down, but the Zinc.tv terms of service (ToS) was last updated on Oct. 24 and now directs all questions, complaints or claims related to Zinc.TV to TiVo's corporate headquarters in Alviso, Calif.
Update: Or did TiVo disclose it, but did not identify Zinc.TV by name? The TiVo 10Q for the quarter ended Oct. 31, 2012, does note the following: "On October 24, 2012, the Company completed another business acquisition for $5.3 million in cash." [Ed. note: Hat tip to reader sbiller1, who spotted it and made note of the disclosure on the message board. We've asked TiVo to confirm.]
Combining OTT and traditional TV
Zinc.TV gathers up free, subscription and pay-per-view movies, TV shows and video clips. Its original owner, Littleton, Mass.-based ZeeVee, had been developing the company's advanced video search technology for almost five years.
According to the Zinc.TV site, the company has cataloged more than 1.14 million "TV quality videos" from 533 sources, including usual suspects such as Netflix Inc., Amazon.com Inc., Apple Inc. iTunes, Crackle and Hulu LLC. Boiled down further, Zinc.TV claims it has access to more than 18,360 TV series and 81,962 movies.
What's interesting is that Zinc.tv's system is capable of merging all of that OTT data with a cable operator's live TV lineup, what's available in the MSO's TV Everywhere and traditional video-on-demand (VoD) libraries, and what's stored on the customer's DVR.
Once that information is combined, the system can be tailored to give preference to movies and TV shows that are offered for free (i.e. ad-supported), via a subscription service (like Netflix), or on a pay-per-view basis from a pay-TV provider or via a service like iTunes. Another level of personalization lets users only see search results for movies and TV shows that can be played out on the devices they happen to be using, including tablets and set-top boxes. Once a video is located, clicking the "play" button forwards the user to the source of the video.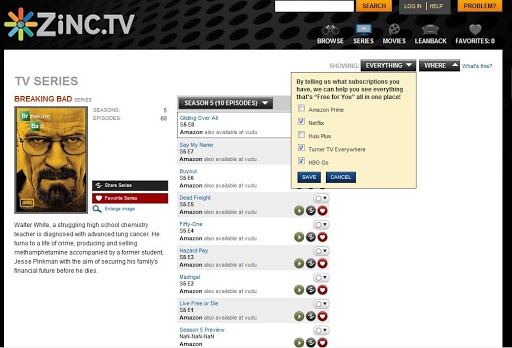 That sort of metadata/search backend system is of course valuable for a company like TiVo, as its current strategy focuses on a platform that can support traditional pay-TV services alongside access to OTT video. TiVo isn't commenting on how it intends to use Zinc.TV's technology, and it was not immediately known if TiVo has already integrated Zinc.TV's system into its retail HD-DVRs or the boxes and software it supplies to pay-TV partners such as Virgin Media Inc., Suddenlink Communications, RCN Corp. and DirecTV Group Inc., among others.
ZeeVee relaunched Zinc.TV in March 2011 as a white-labeled, Internet video platform for service providers, and announced that Genovation Capital LLC, a venture capital firm founded by a handful of cable vets, had taken an undisclosed stake. (See Cable Vets Launch VC Firm.)
Zinc.TV has not announced any service provider deals, but it noted in the March 2011 announcement that it was in trials with operators and partners in U.S., Europe and Mexico.
But the general idea behind Zinc.TV has already started to catch on with some major cable operators. A prime example is Charter Communications Inc. , which announced in November 2011 that its Charter.net customer portal had gained the ability to organize content from Netflix, Amazon Instant Video and Hulu alongside the MSO's own VoD content when customers searched for movies and TV shows. At the time, Charter said it expected to expand that functionality on tablets and mobile devices sometime in 2012.
MSO's Charter.net Web portal includes an Online TV Networks page that lists almost 300 Web-based sources of video, including mainstream suppliers such as ABC, NBC, CNN and HBO, as well as niche fare from Mojo, Craftster and Aniplex.
Charter, coincidentally, is a TiVo partner, but currently leases out TiVo devices only in its Texas-area systems. (See Charter, TiVo Mess With Texas.)
— Jeff Baumgartner, Site Editor, Light Reading Cable