Netflix Inc. on Thursday published its rankings of the video streaming quality provided by 16 U.S. and four Canadian broadband service providers.
Netflix says it used time-weighted bit-rate metrics to represent the data throughput subscribers get. The company says its top HD streams are served at 4.8 Mbit/s.
Why this matters
Netflix intends to refresh the rankings monthly, offering a snapshot of which ISPs are most adept at delivering HD streams and which ones could use a kick in the pants. The move could, at the very least, irritate telcos and cable broadband providers while emboldening Netflix customers to ask laggard broadband providers for better quality of service.
Cable and net neutrality
Cable high-speed services performed well in the Netflix rankings, taken from October 1, 2010 to Jan. 15, 2011. Charter Communications Inc. was tops with a 2.66Mbit/s average, followed by Comcast Corp., Time Warner Cable Inc., Cox Communications Inc., and Cablevision Systems Corp.. Telcos such as Verizon Communications Inc. and AT&T Inc. were represented in the second tier, with CenturyTel (now CenturyLink Inc.), Frontier Communications Corp., and Clearwire LLC listed as having the worst streaming quality in the bunch.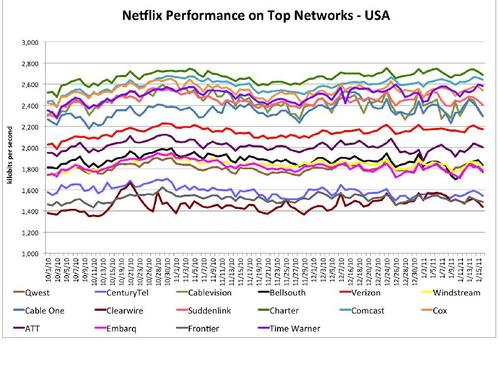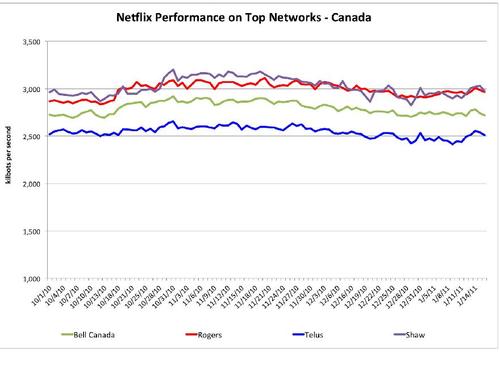 But Netflix's rankings are also coming into view as it's linked to a kerfuffle between Comcast Corp. and Level 3 Communications Inc. over peering agreements and delivery fees for traffic shared between content distribution networks and last-mile access networks. That fight was sparked soon after Level 3 notched a deal to carry some of Netflix's traffic over its CDN.
For more
— Jeff Baumgartner, Site Editor, Light Reading Cable