Comcast's TV Everywhere Play Breaks Out of Beta
Comcast Corp.'s Web-based Xfinity TV service emerged from beta this week touting a hybrid model of subscription streaming and download rental/own from the Xfinity store that shows shades of Netflix Inc.'s Watch Instantly offering and Apple Inc.'s iTunes.
The new service, still confined to PCs (the MSO has not disclosed when Xfinity TV will be available on mobile phones and iPads), is starting off with 150,000 video "choices." That figure includes about 50,000 movies and TV shows that are available for streaming, renting, or purchasing, according to a Comcast spokeswoman. About 90 programmers are now on board, including premium networks HBO, Showtime Networks Inc., and Starz Entertainment LLC. (See Xfinity Offers 150K Video Choices.)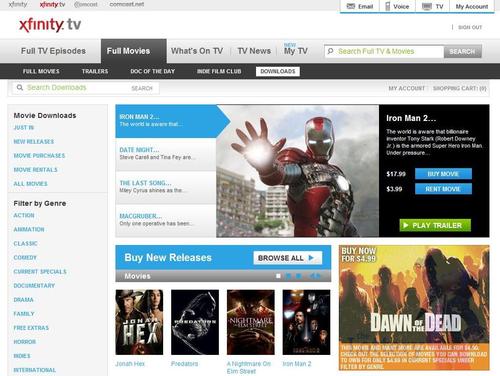 On a comparative basis, Comcast rival Dish Network Corp. also kicked off its broadband video portal with 150,000 movies, TV shows, clips, and trailers, but of that total just 7,000 are movies and TV shows. (See Dish: TV Everywhere Site Is Portal to Growth .)
The national launch of Xfinity TV arrives about ten months after Comcast introduced the initial beta version of the service, which limited access to customers who subscribed to the MSO's digital video and cable modem services. The new, nationally launched version, as expected, is available to all of Comcast's digital video customers (it has more than 19.2 million of them), as well as to those who subscribe to an outside broadband service provider. (See Comcast's 'Xfinity' Goes Live , Comcast's 'Xfinity' to Go Mobile in 2010 , and Comcast to Expand 'Xfinity' to DSL Subs.)
Comcast is coupling its subscription-based streaming video service with an "Xfinity Store" that offers titles for rent or direct purchase. Newer movies, such as Kick-Ass, sell for $17.99 and rent for $3.99, while older flicks, such as 12 Monkeys, sell for $9.99 and rent for $3.99.
Among other new Xfinity TV features, Comcast has also built in a "My TV" app that lets subs personalize their viewing options, schedule their home-based DVRs remotely, and share some content on social media networks.
Subs can access the service with their Comcast ID and password, but are still required to download and install a 1.71-megabyte player from Move Networks Inc. that handles authentication and content authorization. Comcast has previously said it is considering alternative media players after word spread that Move was seeking a possible sale. [Ed. Note: Regardless, this new client is far easier to install and use than the "Comcast Access" authentication platform that plagued the original beta version.] (See Comcast Moving On Move Networks Alternative.)
— Jeff Baumgartner, Site Editor, Light Reading Cable