KC Gets Google Fiber for Real in October
Google Fiber published its approximate construction schedule Thursday afternoon, and the Hanover Heights section of Kansas City, Kan., is first in line and will start to receive broadband and subscription TV services from Google starting in October.
Google Fiber also confirmed Thursday that 180 of the 202 "fiberhoods" (areas with 250 to 1,500 homes) reached their pre-registration goals to get service. (See 89% of Google Fiberhoods Make the Cut .)
Hanover Heights led wire-to-wire during Google's six-week "fiber rally." Among other Kansas-side fiberhoods, Dubs Dread will get services in December, while another five areas are tabbed for the 2013 winter, more than a dozen set for the Spring of 2013. Even more are slated to come online next summer.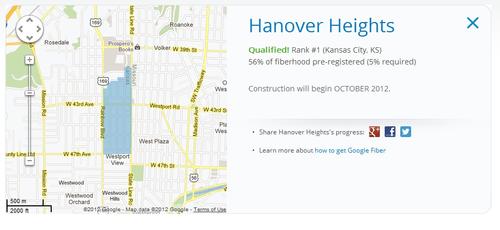 On the Missouri side, Google Fiber construction will begin in Crown Center, Midtown, Sunset Hill and five other areas starting next Spring.
"It's important to note that our construction schedule isn't set in stone -- many factors, such as a harsh winter, may affect timing," Google Access GM Kevin Lo said on the Google Fiber blog, noting that the company will post any changes as they come about.
But Google Fiber said anybody in a qualified fiberhood can go ahead and sign up for Google Fiber services now. Those include a 1Gbit/s service that runs $70 per month and a TV bundle that starts at $120 per month. Google's also offering a "free" broadband tier (5mbit/s down by 1Mbit/s upstream), if the customer ponies up the $300 construction fee. (See Avail-TVN Preps Google Fiber for TV Everywhere and Google Fiber Bundles TV, Shuns Data Caps.)
Google Fiber already has plans to conduct a similar rally in North and South Kansas City, Mo., as well as the Westwood, Westwood Hills and Mission Woods sections of Kansas City, Kan. However, it has not announced when that rally will start. (See Google Fiber Promises Phase II Rollout and How Long Will Google Keep the Fiber Flowing? )
Google Fiber will be locking horns in the Kansas Cities with Time Warner Cable Inc., AT&T Inc., SureWest Communications and, to a small degree, Comcast Corp..
— Jeff Baumgartner, Site Editor, Light Reading Cable