Javelin Wants Cisco, Moto to Tap Out
Javelin Innovations Inc. hopes its 1.8GHz modules can help MSOs break a Motorola Inc.-Cisco Systems Inc. duopoly on cable taps, which are used to connect fat feeder cables to the coax that gets stringed to individual subscribers. Longer term, the company hopes it can help cable providers expand their upstream pipes. (See Javelin Jabs at Gigabit Cable Upstream .)
Javelin's line of 1.8GHz faceplates are retrofits for existing tap housings and don't require techs to resplice the hybrid fiber/cable (HFC) plant. Techs can simply remove the legacy faceplate and screw in the new one from Javelin.
In the Arris Group Inc. booth at SCTE Cable-Tec Expo, Javelin showed modules that snap into tap housings from Cisco, Motorola, and Regal, a proprietary brand of Arris, Javelin's exclusive reseller for the North America and Latin America. (See Javelin Partners Up .)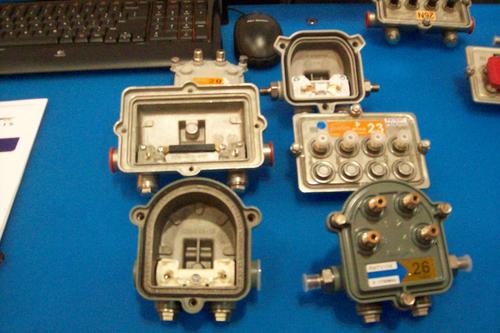 Javelin CEO Wayne Davis says Motorola, Cisco, and Arris represent about 90 percent of the tap market. Javelin has not yet built drop-in modules for Antronix Inc., Lindsay Broadband Inc., CommScope Inc., and other tap suppliers.
Today's cable modems or set-tops can't tune above 1GHz, but Javelin insists that 1.8GHz tap technology is relevant because the current crop of 1GHz taps doesn't perform well at the higher end of the spectrum, rendering a chunk of that capacity -- perhaps 50MHz to 70MHz -- completely unusable. (See CableLabs Eyes a Super-Sized Upstream and Does HFC Have Plenty of Legs Left? )
Javelin hasn't announced any customers for the new product, but Cox Communications Inc. seems like a good fit because Cox has expanded its spectrum to 1GHz, using that extra headroom for more HD channels and a new tru2way-based premium video package. (See Cox Guides Tru2way Forward and Cox Makes 1 GHz Moves .)
— Jeff Baumgartner, Site Editor, Light Reading Cable