1/29/2012

Comment (0)

Testing cloud solutions is complex for a several reasons. Cloud testing includes infrastructure tests that could be evaluated using standard network test equipment. But cloud testing also includes the virtual server space that standard testing tools cannot easily explore, not to mention the added complexity of shared memory, CPU, network and storage resources. Luckily Ixia (Nasdaq: XXIA) was able to support both type of tests offering hardware to test the infrastructure, virtual Ixia tools to test within the virtual space, and configuration assistance to put it all together.

All together we used two XM12 chassis and one XM2 with the modules listed below:


Xcellon-Ultra NP Application Traffic Testing Load Module: Used for Layer 4-7 testing with 10 Gigabit Ethernet interfaces, such as for our Videoscape or PCRF tests (to be seen in an upcoming article)
Xcellon-Flex Accelerated Performance and Full Emulation Load Modules: Used for Layer 2 to 3 testing with 10 Gigabit Ethernet interfaces, such as for our Fabric Path test
LSM1000XMVDC16-01: Used for Layer 2 to 3 testing that required Gigabit-Ethernet interfaces
Xcellon-Ultra XT/XTS Application Traffic Testing Appliances
We made use of both IxNetwork software for tests that required Ethernet/IP (Layer 2/3) traffic, and IxLoad when state-full traffic like HTTP, streaming video or emulated mobile traffic was required. Here are a couple of photos of the XM12s: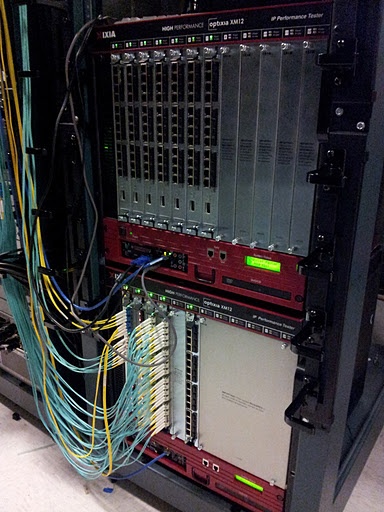 For the virtual tools, we made use of both Ixia IxLoad VM and Ixia IxNetwork VM, for state-full and stateless traffic, respectively. Finally you will also see that in some cases we are looking at Cisco's applications. In these cases we had to evaluate Cisco applications that did not allow us to use an Ixia tool and thus we had to come up with new methodologies.
---
Next Page:
BMC Cloud Lifecycle Management Integration
Previous Page:
Cisco's Unified Data Center
Back to the
Cisco Test Main Page

(0) |