Cable Sizes Up National Wi-Fi Play
Forget all this TV Everywhere chatter for a moment. How about broadband everywhere?
That's the general concept the cable industry is pursuing as it makes progress on a common, scalable Wi-Fi roaming architecture that represents a step toward turning the nation into a giant hotspot that's backhauled and powered by cable's hybrid fiber/coax (HFC) plant. It'll need plenty of support by the MSOs to make that happen, but some of the technical pieces of such a system are already taking shape at CableLabs.
To a degree, this idea is already springing to life in the northeastern U.S., where Cablevision Systems Corp., Time Warner Cable Inc. and Comcast Corp. have inserted a roaming system that lets their cable modem subs tap into each MSO's respective Wi-Fi access points. (See MSO WiFi: Roam (If You Want To).)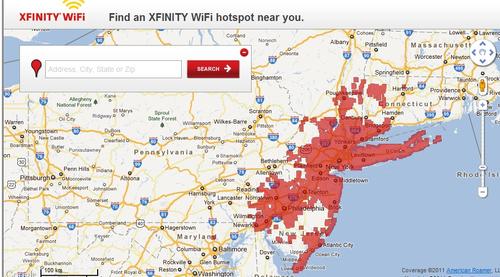 But these Wi-Fi access points only support a small number of individual Service Set Identifiers (SSIDs), so the potential to scale that in many other markets and involve the participation of a much greater number of MSOs is rather limited. Plus, there's no seamless handoff, so those customers must re-authenticate themselves as they travel from one Wi-Fi hot spot to another. The next phase of cable's Wi-Fi ambitions will try to address both types of issues.
"The MSOs in the northeast would like to do that [Wi-Fi roaming] on a broader basis" as they tack on Wi-Fi in other parts of the country, says a source familiar with the plan, noting it aims for seamless authentication across the access points securely while allowing the MSOs to manage the traffic. (See TW Cable Places Bigger Wi-Fi Bet.)
Another industry source warns that MSOs are still mulling their Wi-Fi deployment commitments for 2012 but expects the results to become quite apparent within the next 12 months. The industry is also still chewing on how the MSOs might settle Wi-Fi roaming traffic and whether that might involve a financial component.
In addition to the development of a roam-able Wi-Fi network, the strategy also plays into cable's interest in using picocells to handle some of the wireless backhaul needs of mobile service providers. And that work certainly fits in with the recent deals struck by Comcast, TW Cable and Bright House Networks and Verizon Wireless. (See MSOs Sell AWS Spectrum to Verizon for $3.6B .)
Comcast Cable President and CEO Neil Smit didn't get that specific, but he did note in the announcement that the deals "together with our Wi-Fi plans, enable us to execute a comprehensive, long-term wireless strategy and expand our focus on providing mobility to our Xfinity services."
Cable's Wi-Fi roaming specs
Many cable operators may still be mulling how they'll execute long-term with Wi-Fi, but some of the technical groundwork for a common roaming system already is well downstream.
CableLabs has been tackling this for some time and, without much fanfare, issued the WiFi Roaming Architecture and Interfaces Specification (PDF) in July 2010. The goal: to specify "architecture requirements for best effort data roaming among cable operator Wi-Fi Networks."
The specs get into interfaces for Wi-Fi clients, Wi-Fi gateways (for the 802.11 air interface for the subscriber device) and MSO network systems. Like TV Everywhere, cable's Wi-Fi roaming initiative will lean on the ability to authenticate customers (probably using their MSO-supplied email addresses and passwords) so the access point can know that a customer is indeed a cable modem sub from an MSO that's a member of the roaming team.
The specs also outline some "visited" network AP SSID configurations, including the use of an unencrypted SSID that brings customers to a captive sign-in Web portal, or an optional secured SSID that's common to all roaming partners. The latter could come into play if MSOs decide to adopt a national Wi-Fi brand name or a cross-industry SSID that could apply to cable roaming club members. But nothing's been decided on that yet, sources say.
An industry source said CableLabs has been doing some periodic testing with access point vendors, such as BelAir Networks Inc. and Cisco Systems Inc., and with network infrastructure partners "to see how to evolve this and make it scale."
That work could have some international potential. Shaw Communications Inc., for example, is starting to test its budding Wi-Fi network in Canada. In the U.K., Virgin Media Inc. is developing a Wi-Fi network for its own broadband customers (up to 10Mbit/s) and for free to everyone else, though the latter group would be capped at 500Kbit/s. (See Shaw Launches Wi-Fi Test Net and Shaw Scraps Cellular Plan.)
Cable and beyond
But not all MSOs are sold the idea of extending their broadband reach using Wi-Fi, leaving the potential for plenty of Wi-Fi dead zones. Charter Communications Inc.'s footprint, for example, tends to cover Tier 2 markets, which could make broad Wi-Fi picocell deployments uneconomical, MSO CEO Mike Lovett said at this week's UBS AG investors conference. He cited Madison, Wis., as an example of a Charter market that's dense enough to justify a Wi-Fi deployment. "It's something that our engineers are exploring," he said.
Or cable could look beyond its own kind. Another industry source suggested that cable could look to fill in gaps by notching Wi-Fi roaming deals with AT&T Inc. and Verizon.
— Jeff Baumgartner, Site Editor, Light Reading Cable