CES: Cisco Unveils Master Plan for Video

1/5/2011

Comment (12)

LAS VEGAS -- 2011 International CES -- Cisco Systems Inc. (Nasdaq: CSCO) today launched Videoscape, a sort of super TV Everywhere, blending TV, over-the-top (OTT) content, and mobile access.

Cisco's core idea is to unify the fragmentation that's evolved around Internet video, getting the network to smooth over the differences in devices (handsets vs. TV sets, for instance) and to recognize automatically what programming a household has paid for. "Now you can see the play that we're going to make. We think it is very intuitive on where the market has to go," Cisco CEO John Chambers said.

It's a complicated, ambitious plan, one that Chambers said will require the participation of service providers. (Telstra Corp. Ltd. (ASX: TLS; NZK: TLS) is already using it, delivering content to TVs without the help of a set-top box.)

It's also an extension of the Medianet concept Cisco has been pitching. (See Cisco's Video Ambitions Go Network-Wide.)




Videoscape comes in three pieces, split among five product families:
Videoscape Media Suite: the management piece
Cisco Conductor for Videoscape: a real-time messaging architecture that connects the TV to the network, useful for receiving stock prices; contacting a support desk; or social networking
Three families of client devices: media gateways, IP set-top boxes, and software clients.
Conductor might be the most important piece here, but first, the flashy stuff.
The heart of Videoscape is the TV experience. Menus on the TV allow searches by content, and the results come up in three columns: regular TV/DVR content; Web content; and personal/social videos. To share a video, a viewer can plug a Flip camera into the Videoscape media gateway; the video automatically gets uploaded to the My Network column and can be sent to others (through ūmi personal videoconferencing, for instance).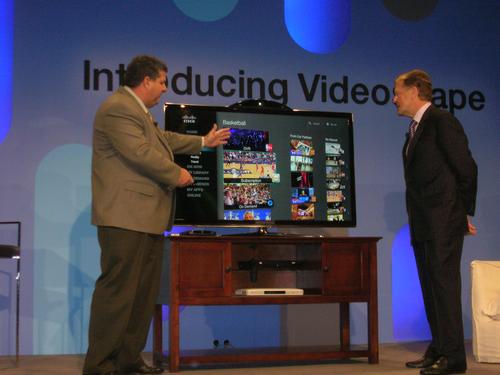 The software clients are the key to Videoscape's TV Everywhere aspects. A client can replicate the Videoscape three-column TV screen on a mobile device, for instance, and the viewer can grab any of the video that would have been available on the TV. The network would be responsible for transcoding.
The key here is that the service provider would be in control; Cisco is supplying Videoscape as more of a tool than a service. That means Cisco wouldn't be subjected to the roadblocks facing Google TV, namely, content providers blocking their programs from the service.
Cisco Conductor is where the real magic happens, though. It's an architecture that unifies all of the back-end functions in the network -- authentication, rights management and billing, among others. It's like one massive
Service Provider Information Technology (SPIT)
mediator.
"If you're a service provider, you really need to stop thinking about spending hundreds of millions of dollars on all these applications individually," said Enrique Rodriguez, senior VP of the service provider technology group. Cisco's intention is to make video access more unified, the way that consumers think of the Internet as one big thing. "You don't build the Internet for one application."
Telstra's example aside, Cisco expects most early Videoscape installations to come through the media gateway, which would become like a receiver for the Internet cloud, Rodriguez said. Later, manufacturers might integrate the technology directly into TV sets.
— Craig Matsumoto, West Coast Editor,
Light Reading

(12) |