Ex-Moto Execs Hope to Revive Javelin
Javelin Innovations Inc. -- the former Vyyo -- shuttered operations earlier this year and is in the process of selling off assets, with one interested group consisting of former Motorola Mobility LLC executives.
That group, interested in rejuvenating the company's technology and taking another run at the cable market, "is in the process of securing their funding," says Michael Corwin, who took over as Javelin's CEO in late 2010.
The ex-Moto group is one of multiple potential suitors talking to Javelin, whose remaining assets include taps and other access gear that can help cable operators build out spectrum above the current ceiling of 1GHz.
Javelin, still backed by Goldman Sachs & Co. and company founder Davidi Gilo, hopes to get the asset sale wrapped up within the next 30 to 60 days, Corwin tells Light Reading Cable. He's now consulting with Javelin via his own firm, S.R. Ventures LLC, and running point on getting a deal put together. (See Javelin's CEO & CTO Make Their Exits.)
Corwin says Gilo still believes in the potential of Javelin's technology and would prefer to see it go to a group that intends to do good with it, rather than selling the intellectual property to a patent troll that would only be interested in suing possible infringers.
"I believe it will be sold, and it will be back," Corwin says.
An asset sale would breathe new life into a company and a technology set that endured a rollercoaster ride in recent years.
Before changing its leadership in late 2010, Javelin appeared to be making some progress. That fall, it had inked a distribution deal with Arris Group Inc. for a new line of bandwidth-boosting cable products, led by 1.8GHz modules that can snap into tap housings from Cisco Systems Inc., Motorola Mobility and Regal, a brand of taps made by Arris. Javelin also has a line of 2.8GHz taps targeted to new-builds. (See Javelin Wants Cisco, Moto to Tap Out and Javelin Jabs at Gigabit Cable Upstream .)
Corwin and an Arris spokesman confirmed that the companies have no current business. Corwin says Javelin had also discussed a partnership with Motorola Mobility, but that Motorola could not commit to the kind of product volumes that made sense for Javelin.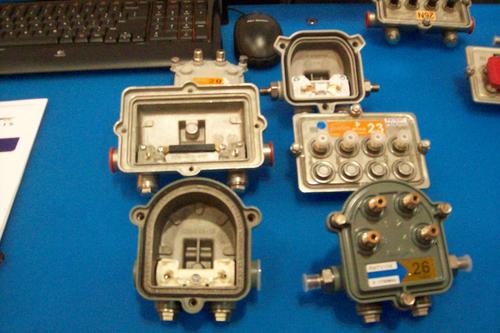 An asset sale could be good news for Cox Communications Inc., which has been the champion and marquee MSO customer of Javelin/Vyyo.
Timing is everything
As its cable ambitions go, Javelin/Vyyo had a hard timing drumming up much cable business outside of Cox. "The technology was just way too early," Corwin says.
But a few projects underway now would seemingly make Javelin's technology more relevant.
Docsis 3.1, a new spec underway at CableLabs, is considering the idea of expanding the downstream spectrum to about 1.2GHz. EPON Protocol Over Coax (EPoC), a Institute of Electrical and Electronics Engineers Inc. (IEEE) standard under development, will likely require its own swath of spectrum. Either project could make sense for Javelin's 1.8GHz or 3GHz products. (See Docsis 3.1 Set for a Spring Fling , Docsis 3.1 Targets 10-Gig Downstream and EPON-Over-Coax Starts Its Standards Journey .)
China presents another possible opportunity. Its State Administration of Radio, Film and Television (SARFT) is developing HiNOC (High Performance Network Over Coax), an Ethernet-over-coax platform that envisions the high-speed data upstream and downstream living in the range of 750MHz to 1.6GHz. (See China Rolls Its Own Ethernet-over-Coax Standard .)
Corwin says Javelin has had interest from China, "but didn't have the resources to pursue it."
— Jeff Baumgartner, Site Editor, Light Reading Cable