WiCipedia: Pao Tells All & The Wonder Years

This week in our Women in Comms roundup: Ellen Pao soldiers on; Indian women seek workforce inclusion; companies led by women make more money; and more.
---
Interested in joining Women in Comms on our mission to champion change, empower women and redress the gender imbalance in the comms industry? Visit WiC online and get in touch to learn more about how you can become a member!
---
Ellen Pao may have lost her gender discrimination lawsuit one year ago, but she's not through seeking justice just yet. She is reportedly working on a tell-all memoir with Random House, though no release date has been set. Pao has started a movement with her disclosures about what it's like to work as a woman in tech in Silicon Valley over the past year, from the Elephant in the Valley survey, which was inspired by Pao's trial, to Project Include, where Pao is a founding member. Her memoir, Reset, is being promoted by Random House as a "fearless first-person account exposing the toxic culture that pervades the tech industry." (See WiCipedia: IVF Woes & Changing an Archetype and Tales From the Valley: Bias, Sexism & Worse.)
Indian women in business have taken the spotlight this week with news of female-led startups and the pressure for women not to work in order to get married and raise families. In India, only 22% of women work, and in urban areas that number plummets to 16%, according to the BBC. Women who were interviewed by the BBC said they were told they shouldn't work because they needed to focus on their "real" lives, i.e., finding a husband, and also because being pretty was enough.

For women in India interested in running their own companies, the battle is even harder. Of 4,400 startups in India, only one in ten were started by women, according to Nasscom and CNBC. Sucharita Eashwar and Ankita Vashistha, both proponents of female startup founders, are trying to help women in India gain capital and the support they need to start their own ventures with Catalyst for Women Entrepreneurs and the $1 million Saha Fund, respectively. (See India's Startups: No Longer a Man's World and From Teddy Bear-Shaped Homes to Cloud RAN.)
We often hear about the demise of child stars after their time on the screen ends; the drug abuse and bankruptcy that ultimately ruins them. Danica McKellar is one huge exception. McKellar, who you surely recognize from her days on The Wonder Years, had her own crisis of identity after the show ended, and enrolled at UCLA with the intention of studying acting. There she found that she also had a passion for math, where she surprised herself by scoring the highest grade in her class on her calculus midterm. While still acting, math seems to be McKellar's real passion these days. She's even got a theorem named after her, or if you want to get technical about it, the "Percolation and Gibbs states multiplicity for ferromagnetic Ashkin-Teller models on Z2." Best of all, McKellar serves as a mentor for young girls who are also interested in math. Her first book, Math Doesn't Suck, is geared toward middle school girls and aims to break down stereotypes about girls who want to pursue STEM. We can't think of a better role model. (See A Man, a Mission & an Underwater Flashlight.)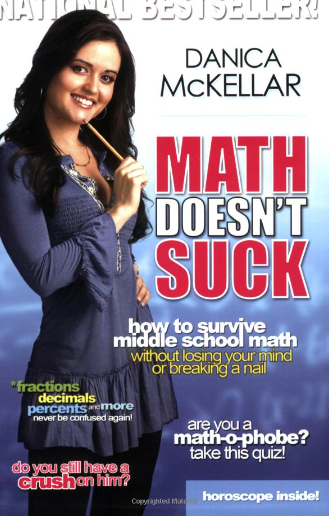 Johnson & Johnson is joining the long list of companies committed to encouraging young girls to pursue STEM. They've recently partnered with FHI 360 and Junior Achievement Worldwide with "hopes to reach one million girls between the ages of five and 18 by 2020." The consortium is slated to target girls through school activities and extracurriculars to increase engagement in STEM, and hopefully convince girls to study math and science and enter into a tech-related career. Ivan Charner, director of FHI 360's National Institute for Work and Learning, said, "Careful research and analytics show that building awareness and increasing girls' knowledge and engagement will help influence their decision to enter STEM2D careers." (See WiC Poll: Start Young to Improve the Pipeline.)
If one thing was made clear in the world of women in tech this week, it's that the lack of female representation in the tech space has nothing to do with women's skillsets. Multiple studies proved that "tech companies led by women are more capital-efficient and achieve, on average, a 35 percent higher return on investment than firms led by men." Though they receive significantly less funding from VCs, they are capable of doing more with less, and are "able to generate 20 percent greater revenue than their male counterparts." So why do women hold only a quarter of tech positions in the US? We'd love to hear your thoughts in the comments section below. (See More Women in Tech Is Critically Important.)

— Eryn Leavens, Special Features & Copy Editor, Light Reading