4G Is Nearly Free With NetZero
Internet service provider and United Online Inc. subsidy NetZero Inc. is going mobile with the help of Clearwire LLC, announcing on Monday a NetZero 4G Mobile Broadband service using the WiMax technology.
The company is offering the contract-free service at no cost for one year with the purchase of either a $100 HotSpot or $50 USB stick to power any Wi-Fi-capable device, including laptops and tablets. After the free year, consumers can continue on with free service of 200MB per month or upgrade for more data ranging from $9.95 per month for 500MB of data to $49.95 for 4GB per month. Once a users reach their cap, they won't incur overage charges, but rather have the option of topping up, upgrading to a higher-capacity plan or discontinuing service until the next month.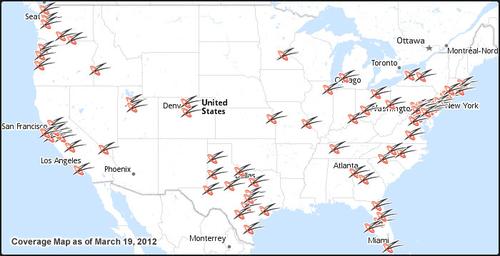 NetZero's mobile broadband service works in the 80 cities in which Clearwire has WiMax up and running. The company is promising download speeds of up to 10Mbit/s and upload speeds of up to 1.5Mbit/s. As a way to lets users balance their own data use against speed, NetZero lets users switch between "LightSpeed" with slower download speeds of up to 1Mbit/s or to "WarpSpeed" with download speeds of 10Mbit/s when needed.
Why this matters
NetZero beats fellow Clearwire wholesaler FreedomPop, which also has a deal in place with LightSquared, out the gate with a free WiMax-based wireless service. (See FreedomPop Bets on 4G With Clearwire.)
The company is hoping to reach those Americans who maybe can't afford a more expensive data service, but they'll be limited by Clearwire's reach. The wholesale operator currently covers 130 million people in the U.S., but has no plans to keep growing its WiMax network as it instead switches to building out Long Term Evolution (LTE). (See Clearwire Ends 2012 With 10.4M Subs.)
For more
Read up on Clearwire's wholesale business.
— Sarah Reedy, Senior Reporter, Light Reading Mobile